At a glance
Appointed CEO of HESTA in 2015, overseeing the A$54 billion industry fund for health and community services workers.
Spearheads push for at least 40 per cent of executive positions to be occupied by women over the next decade.
Cites female mentorship and coaching as pivotal in her climb to the top.
Johanna Leggatt
Very few parents welcome backchat at dinner time, but HESTA CEO Debby Blakey remembers her childhood family table as the centrepiece for lively discussion, debate and discourse.
Blakey and her two sisters were not only allowed to disagree with their parents, but they were also actively encouraged to discuss and disagree on ideas, including about politics.
"My father was such a big debater. He was curious about everything, and he loved a bit of disagreement," says Blakey, who grew up outside of Durban, South Africa.
"He used to say to me, 'I may disagree with what you say, but I will never disagree with your right to say it'."
Blakey's mother was also hugely supportive of her education and encouraged her daughter's early enthusiasm for maths.
"My passion for maths was 100 per cent; all I ever wanted to do was think about maths and how I could use it," Blakey says.
"But this was prior to the STEM revolution, and maths was seen as a bit of a dead end, and as a young woman who wanted to study maths, it was assumed you'd become a maths teacher."
Breaking through
Blakey had bigger ambitions, however, and she went on to earn a Bachelor of Science from the University of Natal in South Africa, where she was the recipient of an IBM scholarship.
After she graduated, Blakey worked for consulting actuaries and, while she relished the work, she missed the "client-facing aspect".
Soon, Blakey set up her own employee benefit consulting practice, which not only offered that crucial interpersonal client contact, but also enabled her to juggle work and family life following the birth of her two children.
It turned out to be one of the most deeply educational phases of her career.
"I don't think I realised at that point how that business was setting me up for the rest of my career," she says.
As Blakey points out, running your own business requires a wide breadth of skills, ranging from compliance, risk planning and business development to marketing and relationship-building, as well as operational work.
"You get pleasure out of the things that are completely within your capability and quite mundane, and you also get pleasure out of those things that will take you to the edge," she says.
"It pushes you and develops you, and I loved it."
After 12 years of running the practice, however, she and the family needed a change. Blakey and her husband wanted to ensure the best life for their teenage children, and so she sold her business and the family moved to Melbourne.
"It was a big move and, with hindsight, I realise just how big a move it was, as we knew nobody here," she says.
Blakey took a year off before taking up a business development role for an industry superannuation fund.
"I had done work in the corporate super space back in South Africa, but it was just one of those fortuitous moments in life for me when I ended up in the industry fund sector, because that has become such a big part of my journey," she says.
Female mentors
In 2008, Blakey joined HESTA, an industry super fund that looks after health, aged care and community services workers and manages A$54 billion in assets. It was here that she really hit her stride and was appointed CEO in 2015.
"Part of what attracted me to HESTA was the strong female leadership," she says.
She was initially hired as the executive for member advice, and she credits the mentorship she received from two senior female HESTA executives – the then-CEO Anne-Marie Corboy and board chair Angela Emslie – as a "phenomenal influence".
"I have never experienced anything as empowering as being mentored by such strong women," she says.
While Blakey had a solid track record in business, at the time she didn't feel she had a "fully formed belief" in herself in terms of what she could achieve.
"I am also an immigrant to Australia, and I haven't had the formative years in this country, the broad networks," she says.
"I think both of these women, just in their own way, helped me find myself – develop a self-belief – which I think you need."
This kind of mentorship is crucial, Blakey contends, for anyone wishing to reach their full potential.
"I think to learn in the safety of those relationships – that you can be strong, and learn the self-belief, but you can also be vulnerable – is amazing," she says.
"I think everybody should seek out people who can speak into their lives in a very robust and frank and honest way."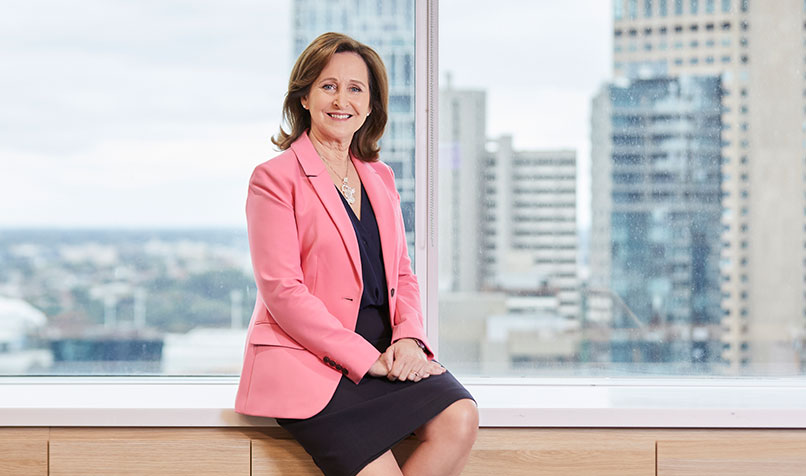 Knowing her professional history, it is not surprising that Blakey has become a fierce champion of promoting women into executive ranks.
Women are still under-represented on boards and in the C-suite, with Workplace Gender Equality Agency data showing the number of women on boards and management committees at about 30 per cent.
Close to one-third of reporting organisations have no women on their boards at all. In a bid to address this imbalance, HESTA has spearheaded an investor-led target, called 40:40 Vision, for women to fill at least 40 per cent of executive roles in ASX200 companies by 2030.
The 40:40 Vision Investor Statement has eight inaugural signatories, including Aberdeen Standard Investments, BlackRock Australia and IFM Investors, and outlines investor commitments on gender diversity in executive teams.
"The timing is just fortuitous, because we really felt, as we hit 2020, this has to be the decade to do it, and we cannot kick it down the road again," Blakey says.
"We cannot leave it to our children, our grandchildren, to have to deal with this. We are the generation that has to do this."
The post-COVID-19 business environment also provides a unique opportunity for a mindset shift around gender.
"COVID has shown us that, where there's a need, you can be incredibly adaptable, resilient and find new ways of doing things," she says.
Yet, why are women still so under-represented in the top ranks?
For Blakey, the reasons are complex and multifaceted.
"I think it comes down to traditional views of what the C-suite leaders should be, and it's a very human tendency to appoint people who look like us," she notes.
Blakey says women can sometimes "hold themselves back", too.
"In terms of my own life, I probably thought that, because I had chosen to juggle being a mum and working, that it meant I had to make a bigger sacrifice in my career than I actually had to," she says.
Member connection
Blakey's focus on female empowerment aligns perfectly with HESTA's member base – about 80 per cent of the fund's more than 870,000 members are women.
"Society values these [members'] roles, but the remuneration is not at the right level, so there's an enormous responsibility I think on us first of all to advocate for them…but also to really make sure that we are doing everything we can to drive those retirement outcomes in their super," she says.
HESTA's members, Blakey notes, have also been disproportionately affected by COVID-19, as most community and healthcare employees kept working through the lockdown, sometimes in environments that potentially exposed them to the virus.
"At the exact time we were retreating to our safe environments and making sure every HESTA employee was safe at home, many of our members were going into dangerous situations in terms of COVID," Blakey says.
"And that enormous pressure on the PPE [personal protective equipment] meant many of them were not going with the protection that they should have had. And yet, they were still choosing to go into their work environment, because they believed they needed to provide the care."
It was this juxtaposition that drove home "just how enormous their contribution is", Blakey says, and she is advocating for a greater proportion of recession stimulus money to be directed towards female-dominated sectors.
Blakey cites research from The Australia Institute, which highlights that, for every million dollars spent on new construction, only 0.2 direct jobs will be created for women, while every million dollars spent on education, a female-dominated sector, is likely to create 10.6 jobs.
"The role of healthcare, the role of aged care, has been so critical in recent times, and those areas of social infrastructure need enormous investment," Blakey says.
"We would love to see a very different way of looking at the recovery and how we rebuild Australia."
The future of super
One policy of which Blakey is hugely supportive is the Australian Government's decision to allow women facing family violence to access their superannuation during the lockdown.
"Super can provide a vital financial lifeline to those seeking safety from violence and abuse," Blakey says.
"But it's important this policy should be accompanied by appropriate family law reform, enabling victims and survivors of family violence to claim back super from perpetrators of abuse."
In the broader sense, Blakey believes accessing superannuation early should be a last-resort option, and she would not, for example, welcome the use of super to fund a house deposit.
"This was a once-in-a-generation period, and I understand that, but I think we've got to be very careful going forward that we don't undermine preservation," she says.
Blakey is also concerned that the planned stepped rises in obligatory superannuation levels will stall under the guise of challenging economic conditions. The super guarantee is legislated to increase by half a per cent by July 2021, before reaching a final value of 12 per cent by 2025, but a number of politicians have voiced their reservations about these rises in the current economic climate.
"We have an amazing super system in Australia," Blakey says, "but we just have to be careful that we don't erode it by these changes that appear to be small, but ultimately will see the erosion of the system."
Consider a coach
When the role of CEO came up at HESTA in 2015, Debby Blakey was encouraged to apply.
She was the deputy CEO at that stage and, while it may have seemed like a natural progression to vie for the top job, Blakey wanted to make sure she was applying for the right reasons, so she sought the advice of a qualified business coach.
"She coached me through why I wanted this role and what my career objectives were in pursuing that role," she says.
"It was the most wonderful experience for me, because by the time I actually applied for the job, I wanted that CEO role so much."
The coach was tough on Blakey — "she really did not allow me to give any shallow assessments", and together they dove into "the question of Why".
"I think you really need to know why you want a role before applying," Blakey says.
"I think people who have real clarity on why something aligns with them – with their values, with their ambitions – have a step up in terms of the confidence that they need to do the role."
Blakey recommends others consider hiring a coach before applying for a career-defining role.
"I think mentors are very important, but I would recommend professional coaching, business coaching, at certain points in your career, because it was just so clarifying," she says.