By Joseph Catanzaro
The year 1999 was another rich one for multinational accounting firms in China. Less than 10 years after China had seriously begun to develop its accounting profession, business was booming on the back of foreign direct investment from multinationals and Chinese companies hungry for overseas capital.
The fledgling Chinese accounting firms were still struggling to find their footing after being spun off from the state. That left the big Western firms with seemingly endless growth and opportunity.
The future seemed particularly bright for Pricewaterhouse Coopers (PwC), newly created from Price Waterhouse and Coopers & Lybrand. The managing partner of Coopers' Chinese affiliate, Zhang Ke, was regarded as a Chinese accounting wunderkind.
Behind closed doors, the new CEO of PricewaterhouseCoopers China, Kent Watson, sat down with Zhang to discuss the future. Industry insiders saw Zhang as the heir apparent for the top job. "In the domestic market, Zhang Ke was a recognised leader," recalls Watson, now retired.
But Zhang had a different future in view – one where local Chinese firms dominated the auditing and accounting profession in China. Instead of accepting Watson's offer, he boldly handed in his resignation, assembled a number of other Coopers & Lybrand China partners, and formed ShineWing.
Today ShineWing is a strong Chinese brand boasting more than 4000 clients – among them China's biggest integrated energy company, China National Petroleum Corporation, and China Investment Corporation, one of the world's largest sovereign wealth funds.
On revenue numbers from the Chinese Institute of Certified Public Accountants (CICPA), ShineWing ranks ninth amongst Chinese firms, with 2013 revenue of RMB 1.175 billion (about US$190 million), and close to 4500 employees and 200 partners.
ShineWing, however, is the sole member of CICPA's top 10 not to have merged or partnered with a first- or second-tier international firm. There has been a slew of partnership offers, but Zhang isn't interested. He wants to build his own international network. If he fulfils his ambition, ShineWing will become China's first great multinational professional services business.
An unorthodox background
Sitting in his Beijing boardroom, tall and broad-shouldered, the now 61-year-old Zhang brims with gruff humour. He explains that the company already has a small foothold in Singapore and Japan.
Its Hong Kong branch, established in 2005, now ranks sixth locally in terms of revenue, beaten only by the big four and BDO. ShineWing will open a branch in the Middle East before the end of this year, he says, and its first European office will come in 2016.
And earlier this year, ShineWing merged with Moore Stephens Melbourne to create ShineWing Australia. The new Australian firm is already gearing up for an aggressive expansion: managing partner Marco Carlei talks of a new dedicated China desk aimed at capturing more inbound Chinese investment, a strategy that will require ShineWing Australia to poach clients from the big four.
Zhang's determination to build a fiercely independent Chinese firm with an international reach is as unorthodox as his professional background and experience.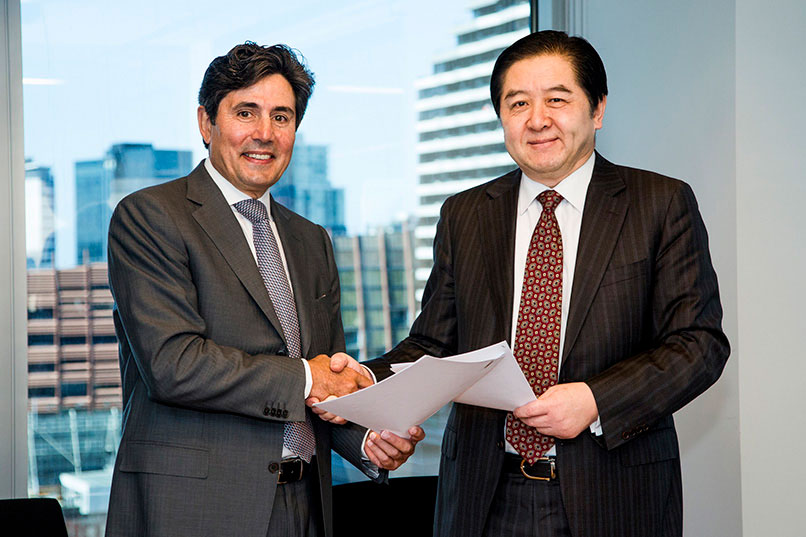 For starters, he reveals he has no formal training in accounting, and only graduated from university at the age of 29.
"You might think I was not a good student," he says. "But it was [the tail end of] a very special period of time in China." That period was the Cultural Revolution, when chairman Mao Zedong's Red Guard militia shut down the universities and persecuted millions in their zeal to purge the nation of the last vestiges of capitalism.
Born in Xi'an in 1953, Zhang grew up in this very different China, the son of a government official and a teacher. Like many urban teenagers during the Cultural Revolution, when he was 16 Zhang was forcibly sent to work in the countryside, a member of what is now referred to as the "lost generation". He ended up on a farm in north-western China. With typical Chinese stoicism, he describes the conditions as "austere but simple".
"There was no chance to study [formally] at all. I experienced many times of desperation and hope, hope and desperation," he says.


As he developed the foundations of what grew into a strategic way of thinking, which would serve him in later life. His teachers were Plato, Hegel, Kant and their Chinese counterparts Confucius, Lao-Tzu and Han Fei.
"I read history and philosophy books," he says. "I think this helped me a lot with my later achievements, more than learning accounting."
Accounting resurrected
In 1977, after 11 years of closure, the universities reopened, but with only tiny intakes of students. One of the lucky ones, Zhang studied "investment" at Renmin University. As a young graduate, he scored a job as a management consultant with Chinese state-owned investment company CITIC. Then in 1981, as China began opening itself to trade and investment, accounting in China was revived.
Zhang was simply transferred to the new accounting branch in CITIC. "It was not my choice," he says. Everything he knows about accounting and auditing, he learnt on the job.
In 1993, with only 30 staff, Zhang was given the task of setting up CLEC, a joint venture between CITIC and Coopers & Lybrand. By the time the merger with Price Waterhouse came around in 1999, he had developed Coopers "into the biggest firm in China, among the big six at that time". He adds that: "This experience was very important to me, because I got to know international accounting firms and the management and operating model."
But while Zhang says the experience was later invaluable in establishing ShineWing, some of the lessons learned were not to his liking. He says the joint venture would have done better without constant "international interference" from foreign management. "I would always argue with foreign colleagues," he says with directness, but absolutely no malice. "I had different opinions."
The rotation cycle of foreign employees also frustrated him.
"I spent too much time making foreigners understand China's situation or teaching them how to understand," he says.
Foreign staff had terms [in China] of two years or three years. After they understood [China], it was time for them to leave. New people were sent over and I had to start all over again. When this happened for the third time, I reached my limit."
By 1999, with the PwC merger finalised, he'd had enough. Zhang set up ShineWing with 60 employees from Coopers & Lybrand. The banks wouldn't touch him at first; his start-up funding consisted only of his personal savings and money borrowed from friends. With only six clients to begin with, the money soon ran out. He borrowed more, survived, and eventually thrived.
The transformation ahead
Zhang puts ShineWing's survival and success down to hitching his fortunes to the Chinese domestic market and an intimate understanding of his clients' needs. "We understand the Chinese economic environment and Chinese enterprises," he says. "In this aspect, we are better than the big four."
Paul Gillis, PhD, the professor of practice at Peking University's Guanghua School of Management, believes Zhang is "probably the best accountant in China" and says ShineWing is "probably the highest-quality local firm" in the nation.
"Their real advantage is they are better integrated [than the big four] into the local business community," Gillis says. "They have established themselves as the preferred firm for companies that want to list on Chinese stock exchanges, and I think the Chinese stock exchange is the future of capital markets in the world. So I think they are very well positioned for what is going to happen in the next 20 years."
Gillis believes Chinese firms in general will outgrow the big four in China, unless the big four correct their lack of access to the domestic stock market. "They have a relatively insignificant market share of companies that list only on China's stock market," he notes.

What he calls "the switch" came in 2008, when the global financial crisis hit and the big four suddenly went from fast growth to contraction in 12 months. Since then, they have been growing more slowly than the Chinese economy, while local accounting firms outstrip economic growth.
On the CICPA figures, EY and KPMG dropped to fifth and sixth place in revenue in 2013, pushed down by Lixin, a BDO Chinese affiliate, and Crowe Horwath affiliate Ruihua, while Deloitte's revenue actually shrank.
Gillis recalls accounting's 1950s commercial diaspora, when the big eight accounting firms (as they then were) globalised by following their American and European corporate clients. He believes that a Chinese equivalent will arrive in the 2020s and 2030s. That would change global accounting forever.
An international brand
Zhang says ShineWing has grown as fast as 30 per cent a year at times. Now it has slowed to an average annual growth rate of 9 per cent – still higher than the International Monetary Fund's forecast of 6.8 per cent GDP growth for China this year, and higher, too, than market leader PwC's 2013 Chinese revenue growth of 4 per cent. But Zhang is still avoiding the close overseas alliances so common when foreign firms expand across borders.
Gillis believes that's costing Zhang growth. "I don't think it's a practical strategy," he says. He sees ShineWing's slide in the revenue rankings as "an indictment of its strategy", and Zhang's ambition to catch up with the big four is "not realistic".
ShineWing's greatest strength, says Gillis, is also its biggest weakness: Zhang Ke. Without him, the firm's future is less clear. "He does have one of the more singular [and] cohesive Chinese firms," Gillis notes, "but that's largely because he's such a strong presence. I think the biggest threat to ShineWing is succession. I think they will be acquired by someone in the next 10 years."
But Zhang himself believes the management structure he's built will survive him. And he is adamant there will be no mergers on his watch. He has no regrets about going it alone.
As the overseas expansion of ShineWing has made abundantly clear, China was never going to be enough for Zhang. He insists he has no immediate ambition to seriously challenge the big four outside China, but the future is another matter. Tellingly, it's not the first time he's taken the long view, and been right on the money.
"Our aim now is to build ShineWing into an international brand and an international second-tier firm," he says. "I will leave the bigger goal to my successors."
ShineWing's path to an Australian brand
Marco Carlei concedes that Moore Stephens' Melbourne arm took a "bold decision" earlier this year when it ditched the well-known UK brand in favour of a merger with ShineWing.
Now managing partner of the new ShineWing Australia, Carlei is confident it was the right decision for their 30 partners and 260 staff. Joining ShineWing "essentially gives us an opportunity to pursue our Asia strategy," he says.
In the short term, that strategy is to provide services to existing ShineWing clients in Australia, and use the "pipeline" from China to secure more.
Carlei says the company has conservatively estimated its 2015 revenue will exceed A$50 million, and expects at least 10 per cent growth in the next 12 months. Beyond that, Carlei says ShineWing Australia aims to service local clients keen to push into Asia. "Our longer-term strategy is to be the gateway to China and Asia for all Australian companies."
Zhang Ke says he avoids interfering with local management of his offshore firms the way he experienced it at Coopers & Lybrand. And he does not send Chinese management to manage them. "I know they could not manage them well," he says. Carlei supports that idea – not surprising, given his ambitions to service Australian firms.
The chairman of the Hall Chadwick Association, Brendan Vaughan, says it is a bold move for the Moore Stephens Melbourne team to adopt the ShineWing name. Four years ago, ShineWing partnered with Hall Chadwick to form ShineWing Hall Chadwick. But that pairing was quietly ended.
Zhang cites "different opinions in management philosophy and operation patterns". Vaughan agrees the two firms were headed in different directions. He also notes the role of brand recognition, which he suggests made most state-level Hall Chadwick branches reluctant to adopt the ShineWing Hall Chadwick name. "Brand recognition is significant," he says.
Zhang is unequivocal in his prediction for the Australian branch. "In about five years' time, ShineWing will become a well-known brand in Australia," he says.
"I spent too much time making foreigners understand China's situation."