By Katie Langmore
"Once a Scout, always a Scout" claimed the founder of the world-famous Scouting movement, Lord Robert Baden-Powell – and Alan Chung FCPA couldn't agree more. "I joined when I was 11 and here I am, still a passionate member 40 years later," says the head of indirect tax and transfer pricing practices at Grant Thornton Malaysia.
"I know this sounds corny, but the Scouting spirit means everything to me, and I believe it's helped get me to where I am today."
For example, Chung says he lives by the first Scout Law – a Scout's honour is to be trusted – which means pride and honour are well and truly baked into his work ethic.
Secondly, he explains, "the Scout motto is 'Be Prepared'. I'm always prepared, and I am even known to be over-prepared," he laughs. "I have back-up plans for my back-up plans."
Chung feels that being taught to find solutions to obstacles, often by being thrown in at the deep end and being allowed to make mistakes, is perfect training for adulthood and the workplace.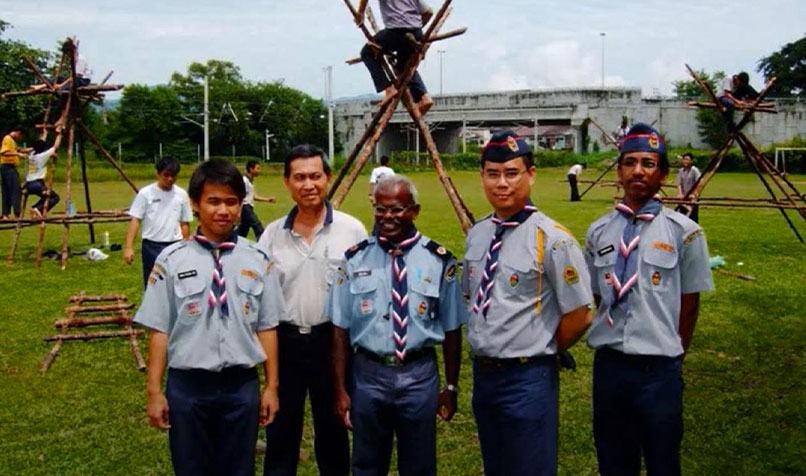 "I was once handed a whole chicken, head and feet still attached, and asked to prepare it! I was only 12, I had no idea what to do with a chicken."
Chung joined Scouts through his school in the town of Ipoh, nearly 200km north of Kuala Lumpur, and attended weekly meets and numerous camps throughout his high school years. In his final year of school, he earned the highest Scouting honour that can be achieved in Malaysia – the King's Scout Award – presented to him in a formal ceremony by the Regent of the state of Perak.
When Chung moved to the US for a school exchange, to Kuala Lumpur to attend university, and then to Australia on another exchange, he continued his involvement with the Scouts.
"Soon after I arrived in Kuala Lumpur, I was walking past a high school and saw a Scout troop inside – and I itched to be involved! I walked into the school, told them I was a King Scout and asked how I could help," recalls Chung, laughing at his own audacity. "I ended up being a Scout leader there for 15 years – first as Assistant Scout Master, then Scout Master and later Senior Scout Master."
Chung feels strongly about giving back and passing on the leadership skills that he has been fortunate enough to develop through his Scouting career.
While work and family life mean his day-to-day involvement has slowed down, he is still involved with the organisation, currently preparing the 100-year celebrations for his old school troop (as he did 30 years ago for its 70th, after discovering during a research project that the school's first troop dated back to 1921).
Chung and his fellow Scouts are hoping to bring together the Scouting community from around the country for a mass camp of activities and competitions.
"Sadly, the first planned celebration was postponed due to COVID-19," says Chung, but ever the Scout, it is likely he won't let a little blip like the pandemic get in the way of his plans. "If a Scout hits a wall, they work out a way to go under it, over it or around it," he says.
Scouts
The Scouting movement was founded in the UK by Lord Robert Baden-Powell in 1907. It quickly spread throughout the world, with Scout groups starting in Australia in 1908 and Malaysia in 1909. By 1937, more than 2.5 million members from nearly
50 countries were affiliated with the Scouts. Now known as the World Organization of the Scout Movement, it is the largest international Scouting organisation in the world.