At a glance
Dionie Lippis ASA originally intended to study drama, and at one point wanted to pursue an acting career.
To her surprise, while studying at the University of Tasmania, Lippis discovered her passion for accounting.
Lippis attributes her own success to her willingness to embrace a challenge, and she is excited by accounting's evolving landscape.
By Beth Wallace
A theatrical background might not seem the obvious pathway to an accounting career but for Dionie Lippis ASA it has been a fruitful pairing.
Growing up in Launceston, Tasmania, Lippis was a shy and reserved child who emerged from her shell through drama – even setting her sights, at one point, on a professional acting career.
"I actually had no intention of going into accounting," she says.
"But then I enrolled in accounting in college, for whatever reason, and loved it. I suppose I've taken my confidence and skills from drama and brought them into accounting."
Although Lippis's family was initially unconvinced by her career choice – worrying that she'd be "stuck behind a desk all day, plugging numbers into a spreadsheet" – they soon warmed to the idea.
"They understand that the industry is changing," she says. "It's very much a client-facing role, which is what I was excited about."
Communicate with impact
Lippis was 19 when she took her first junior accounting job with Preece Martin Accountants and Business Advisers in Launceston.
She remained with the firm for nine months, while studying a bachelor's degree in economics and accounting and diploma of languages at the University of Tasmania, before moving to Taiwan for a three-month language study exchange.
Having studied Mandarin Chinese at university, she'd jumped at the chance to live overseas, explaining, "It broadened my mind in terms of learning how to phrase things differently and understand that people could be coming from different perspectives."
Such lessons have proved invaluable in her accounting work.
Since joining public practice firm Collins SBA, after relocating to Hobart in early 2018, Lippis has relished every opportunity to interact with clients, and is grateful that she was given the freedom to do so even as an undergrad.
"It showed me the value of what I was learning and allowed me to test my communication skills," she recalls.
Fast-forward five years and Lippis is now a senior accountant at Collins SBA, where she focuses her energy on building strong client relationships and combining the technical knowledge, analysis and insights of her team to identify opportunities and navigate challenges.
"The best part of my job is when a client calls me, feeling stressed or stuck on a problem, and I calm them down and explain what they need to do," she says.
"It's so rewarding to see the impact you have, conveying technical knowledge in a way that makes them understand something that can help them in their business."
As someone who loves a challenge, Lippis is excited about the everchanging accounting environment.
She is also passionate about leading the way for her fellow Gen Zers, who she believes are redefining the notion of workplace success.
"The most successful person in the office isn't always the one who's there earliest in the morning and leaves latest at night," she says, adding that the concept of working to live rather than living to work is something she wants to see more people of every age embrace.
"We need to understand that the best way might not be how we've always done it."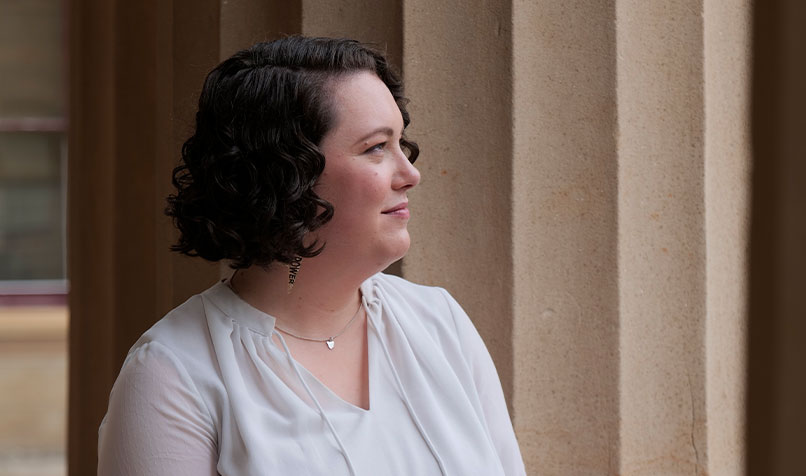 Throughout her career, Lippis has experienced first-hand the power of networking to get ahead.
Connections made at the same CPA Australia networking event, one year apart, led to interviews – and subsequent appointments – at both Preece Martin and Collins SBA.
Likewise, it was at a networking event that a fellow attendee invited her to become a CPA Australia Student Ambassador.
In addition to educating other students about the designation and careers in accounting more broadly, Lippis has attended a range of networking and professional development events.
"We also formed a really nice community of junior accountants," she adds. "It creates a great network at a very early stage in your career."
While Lippis admits that networking can be scary, she believes anyone can – and should – pursue it, for the sake of both their professional and personal development.
"It can be terrifying, but you just have to learn to be comfortable with the uncomfortable," she says, highlighting that it not only gets your name out there and enables you to interact with people in your industry, but also helps you determine the kind of accountant you want to be and the kind of company you want to work for.
"It's so important, in terms of forming your outlook and your knowledge, but also seeking any opportunities that might be available," she says.
These days, Lippis works fulltime while studying to be a CPA. She also volunteers as treasurer of the School Food Matters board and takes every opportunity to network, attend conferences and mentoring events, and share her professional experiences on leadership panels, specifically supporting emerging leaders and new graduates in Tasmania.
Of her busy schedule, she explains, "I once made an active decision to always say 'Yes' to opportunities. You might feel nervous putting yourself out there, but seize as many opportunities as you can, because you never know what will come from it."