Like all great business ideas, Sydney start-up Hudled began life as a problem waiting to be solved.
Historically, finance personnel have managed company software as a service (SaaS) subscriptions using spreadsheets.
The recent boom in the SaaS sector has made managing these subscriptions via spreadsheets increasingly difficult. A typical start-up with 10 to 250 employees now has 67 SaaS tools in its stack, and spends on average US$462,000 (A$664,203) on SaaS per year.
Inevitably, many organisations fail to extract maximum value from subscriptions and, in some cases, spend more than they should on services they do not need.
Enter Hudled, a software platform that allows organisations to break down costs, "see where the value is", and make savings across their SaaS spending – all within minutes, rather than in annual audits, says Alex Millar CPA, Hudled co-founder and CEO.
A passion for business
Millar began his accounting career in a small business services firm in Sydney's south before joining a construction group in 2013.
He started his first business – a stand‑up paddleboarding outfit – the same year. The venture helped fund a trip to Europe, but Millar ran into warehousing problems. Namely, his parents grew frustrated with the bulky boards taking up space in their garage. "It was really fun, but the practical implications of it all made it very challenging," he says.
The entrepreneurial world of start-ups beckoned and, in 2018, Millar launched Little Hubs, a digital marketplace for the childcare sector.
"Childcare in Australia is largely unaffordable, and it's not really flexible or accommodating to families' lifestyles," Millar says. "What we were building was a platform where we could connect families with other like-minded families to access more affordable and flexible care."
Millar ran Little Hubs for more than two years before the pandemic hit.
"We built up some interesting strategic partnerships with listed companies, like G2 Education," he says.
However, the practical realities of the pandemic soon made childcare-sharing impossible, and Millar sold the business in 2020. "I was effectively unemployed," he says.
Fortunately, the adage "as one door closes, another opens" proved true for Millar, who soon became involved with Antler, an early stage venture program that runs start-up bootcamps for budding entrepreneurs.
Through Antler, Millar crossed paths with Santiago Bravo, who shared his idea with Millar for a platform that helped companies manage SaaS subscriptions.
Bravo's idea instantly piqued Millar's interest, and the pair spent four weeks developing the concept, interviewing 100 CFOs of start-ups and scale-ups in their research.
"Ninety-seven said they would use our product," says Millar. "We onboarded four customers without a product."
The venture quickly gained momentum, with Antler investing in the prototype solution. "Four weeks after becoming unemployed, I had a new, venture-backed job," says Millar.
"I count myself as very lucky, but on the flip side, we were also going into a pandemic, so it was also a very uncertain and scary time – but no better time to start the business."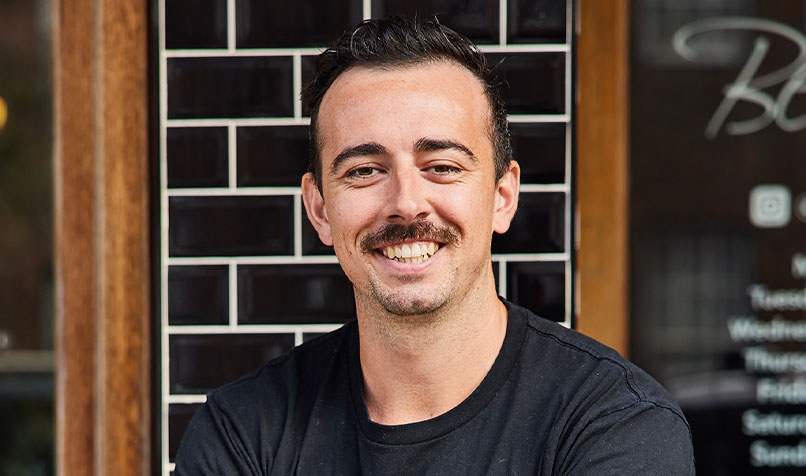 Hudled is a SaaS intelligence platform that provides an organisation with transparency across its multiple subscriptions, allowing it to reduce waste and improve efficiency.
"We found that it's very difficult for companies to manage all the subscriptions they use, but beyond that, it's very hard for finance people specifically to understand if they're getting value or if anyone is using the licences," Millar says.
"Magnify that across hundreds of different software tools that are used across the business – that the finance person doesn't personally use – and it creates this huge mess, and companies waste hundreds of thousands of dollars, or millions, depending on how large they are."
Hudled provides organisations with visibility "so you can see what you're using, how much you're spending", and insights via an SaaS auditing tool, which aggregates data to create recommendations for customers based on their needs.
"For example, if a company's looking to renew HubSpot or Salesforce, we have the benchmarks around what other companies are paying, what exactly the best price is for that specific tool. Using our data set, when they go to renew, if they're paying $150 a licence, we can say, 'hey, you can actually pay $130' and generate savings that way."
Hudled has about 300 clients and is introducing a new tiered pricing model where companies will pay between US$29 and US$499 (A$42 and A$717) per month depending on the tools they use and insights they unlock.
In April 2022, Hudled reached a significant milestone, accumulating US$100 million (A$144 million) in SaaS spend on their platform.
A partner portal is in the works, which will provide accounting firms access to the SaaS auditing tool, allowing them to find savings for their clients.
"It's a big leap forward," says Millar. In challenging economic times, "people care about cost more than ever, so we are really excited about offering a way for accounting firms to help their clients and provide insight".
Millar believes Hudled's entry into the market will ultimately benefit the SaaS sector.
Transparency facilitates a "seamless buying experience, where you find the right software at the right price, you can adopt it with ease, manage the licences, understand where the value is and then cancel it when you identify it's not being used", he says.
One piece of advice for CPA entrepreneurs
"One thing we try to live by is to build and iterate quickly. The opportunity now to use no-code solutions, do things within days and get feedback without actually spending any money is really profound, so my advice is, where possible, don't spend money.
Try to disprove what you're trying to do as quickly as possible. You'll ultimately make a lot more progress and avoid making the common mistakes of spending a lot of money without having anything to show for it."