Updated 21 June 2022: Allan Lorraine died on 24 April 2021. He was 97. His story was captured in The Age.
In October 2009, Allan Lorraine FCPA secured a place for himself and his wife at Mentone Gardens, a Supported Residential Service (SRS) in Melbourne. At the time, he was purely focused on his wife's wellbeing.
"I wasn't bad enough to go in myself, but my wife was and I didn't want her in there alone. I knew what could happen in those places to vulnerable people."
Pleased his wife Rose was settling in well to their new accommodation, Lorraine wasn't at all expecting the exploitation of Mentone Gardens residents he was soon to uncover.
In June 2013, the management of Mentone Gardens called a meeting, summoning residents and relatives. The 50 or so unsuspecting people who filled the residents' lounge were addressed by a voluntary administrator who announced the company was going into liquidation.
"I put up my hand and asked about the bonds," recalls Lorraine. "The administrator replied that he would not take questions publicly. Almost immediately I realised it was all over, that we weren't going to get our money back."
The A$4.5 million gap
He was right. When Mentone Gardens, operated by Parklane Assets, was placed into liquidation in September 2013, residents discovered their deposits and bonds had not been held in a trust, as they had been assured. They had lost all their money.
In total, Parklane owed residents A$4.5 million. They owed A$400,000 just to Allan and Rose Lorraine, who had sold their house to help fund their deposit.
However, the proprietors of Mentone Gardens had chosen the wrong man to mess with. Qualified with the Federal Institute of Accountants in 1949 and a member of CPA Australia since 1975, Lorraine had spent more than 30 years in the public service, including time as an investigations officer with the Australian Taxation Office and as Chief of Investigations at the Industrial Relations Bureau in the early 1980s.
"I decided I wasn't going to wear this, and I wasn't going to let it go," says Lorraine. He was convinced there were "means and ways" of getting the money back. He took the lead and formed a committee with another dozen people, chaired by his son, Bob Lorraine, to represent the bondholders.
This is how a then 90-year-old Lorraine, his professional investigation days 30 years in the past, found himself spearheading arguably the most important investigation of his life – not just for his own sake, but for the many residents incapable of taking action. Three of the 39 residents of Mentone Gardens were aged over 100, many were in their 90s and dementia was common.
This battle would be waged in the murky waters of aged-care regulation. No single agency has overall responsibility for the aged-care sector, and the law during this time was not straightforward. It was only in 2012 that a new SRS Act came in that required residents' funds to be held in a trust account. Just who was accountable was unclear.
Into the fight
Over the next 18 months, Lorraine formulated and directed his campaign out of a small room in the aged-care residence to which he and his wife had relocated. Equipped with an electronic typewriter and fax machine, he tapped out hundreds of pages of letters. He used no computer – he didn't want to get "tangled up" in it – and according to his son, even eschewed calculators, instead performing all arithmetic mentally and on paper.
He also refused to allow the emotion of the situation to affect how he worked.
"The approach I took was to always act professionally, stick to the principles and the job at hand and not let people blindside you."
Publicly, he was doing battle. Privately, he was taking care not to distress his wife, who was living in the same room. Although living with dementia, she was aware he was worried and working hard.
Well trained in record keeping, Lorraine estimates he dedicated about 2000 hours to the case. He contacted the Australian Securities and Investments Commission (ASIC), the Victoria Police Fraud Squad and local, state and federal politicians; he organised petitions to parliament; he spoke to the liquidator; and held hundreds of conversations with nearly all the residents about the "bond scandal".
In particular, Lorraine wanted answers from Victoria's Department of Health (now the Department of Health and Human Services). Mentone Gardens was a private company, but because it was an SRS it had to be registered with the department, which considers whether applicants are suitable and have the financial capacity to operate such a facility. Residents had wrongly assumed that because Mentone Gardens was subject to state government oversight, their interests would be protected.
Lorraine says he wrote to the then minister for ageing 11 times and the premier three times, providing the evidence they needed to act.
Based on his own research, Lorraine believed the department had breached its duty of care and that the best approach was to request the state government to pay the A$4.5 million to the residents as an ex gratia (goodwill) payment in order to avoid facing a class action.
He received no response from the minister or premier. Three top law firms refused to take on the case, as they predicted a loss.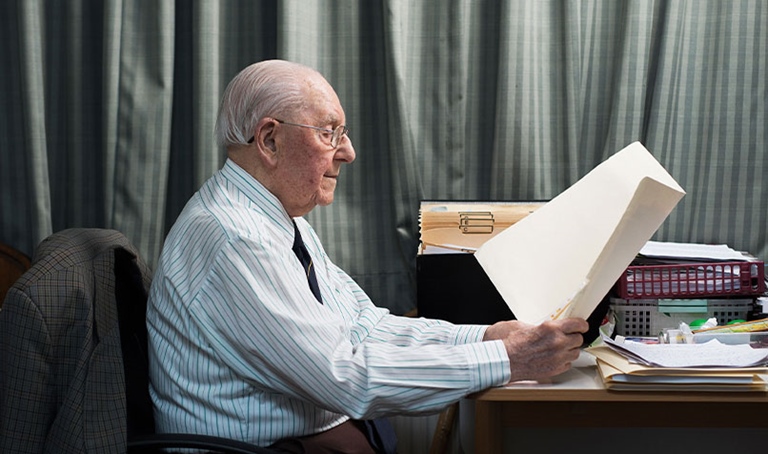 Sue Higgins, granddaughter of one 100-year-old resident, remembers her despair.
"No politician was listening. The media had run with it, but we were still getting nowhere. No-one outside of our group cared. I was at the point where I was prepared to take my granny Beatrice and sit on the steps of parliament."
Yet Lorraine's oldest daughter, Margaret Hope, recalls her father was adamant that if they pursued it, they would get there.
Meanwhile, bureaucratic stonewalling was taking its toll. About a dozen residents passed away during the two-year period between mid-2013 and mid-2015, including Higgins's grandmother.
As for Lorraine, "there was no consideration that Allan would die in the process," says Higgins. "He doesn't think like that."
Lorraine himself was still going strong. As he puts it: "If you don't have the drive, there's no point starting on an issue like this."
Then late in 2014, fortunes turned. A letter from Lorraine to the Victorian ombudsman, Deborah Glass, had raised sufficient alarm for her to launch a formal investigation.
On first meeting Lorraine at his residence in November 2014, Glass remembers being impressed by the firmness of his principles and his determination to fight for justice on behalf of all of those who had lost a lot more than money.
"Many very frail people lost their dignity, their independence and peace of mind," she says. "Allan knew that and it was very clear he wasn't going to put be put off by a bureaucracy that said, 'this is not our problem'."
Glass's investigation into the Health Department's files on Mentone Gardens exposed "a litany of failings". Her 2015 report noted that Parklane had not provided proper financial records for the entire 25-year history of the company. The department received numerous complaints over many years relating to administration of medication, record keeping, quality of care, privacy and delays in the repayment of bonds.
Mentone Gardens was prosecuted twice by the department itself – in 1995 and 2000 – for breaches of regulatory standards. Despite this, the department renewed registration nine times from 1998. The department also failed to identify the insolvent state of the company for nearly three years.
"Allan wasn't privy to any of the documents, but he knew instinctively that something had gone badly wrong as a result of relying on government oversight," says Glass. "His instinct was spot-on."
Victory
When the ombudsman released her report: Investigation into the Department of Health Oversight of Mentone Gardens, a Supported Residential Service in April 2015, she recommended, as Lorraine had, that the state government make ex gratia payments to the people (or their estates) who had lost bonds, deposits or unspent fees paid in advance.
On the evening Glass announced her recommendations, Lorraine received a phone call at his home from the new minister for ageing, Martin Foley, telling him the former residents of Mentone Gardens would receive A$4.33 million in payments.
"I felt gratified and thanked the minister," Lorraine recalls. Others describe the victory with less restraint. Daughter Margaret recalls being "ecstatic". Bob was "elated" and Higgins was "over the moon".
In late 2015, the money was paid and, on 21 October 2016, Allan Lorraine was honoured by the governor with an Order of Australia medal for his service to the community, particularly to aged care.
Higgins's letter recommending the award concluded: "His extraordinary and outstanding qualities include an Australian spirit, some might call it grit, in refusing to let go of an intrinsically unfair, unjust and illegal circumstance that no-one wanted to hear about."
Sadly, Rose Lorraine was unable to attend the ceremony, as she had died in early 2016.
Allan Lorraine's fan club, however, is still alive and well. Says an admiring Sue Higgins: "Allan has a brilliant mind, extraordinary grit and acted in such a gentlemanly manner during the entire process. They don't make them like that anymore."
The Victorian ombudsman government's role
Ombudsman Deborah Glass reported Victoria's Health Department "missed opportunity after opportunity to identify the company's precarious financial position".
It also identified broader problems with its SRS oversight such as "failure to take enforcement action and address non-compliance", incomplete or unclear policies and procedures; and inadequate training of staff involved in regulating SRSs.
The wash-up
Allan Lorraine leaves a legacy that will help to spare future aged-care residents from the same ordeal. This includes tighter oversight of the state's supported residential services, including an external review of the department's audit tools and regulatory framework, as well as new training for the department's authorised officers.
Parklane proprietor William Newitt, also the company's accountant, died at the age of 99 while residing in a nursing home in January 2014. Investigations by the ombudsman later revealed that he had been convicted of fraud in 1958.
In January 2015, ASIC advised the ombudsman's officers that it was investigating the matter. ASIC told INTHEBLACK it is unable to confirm or comment on any investigations. Lorraine, who has been nominated as a chief witness, wishes they would get on with it. At 93, he concedes, "I might not be here if they don't hurry up."