At a glance
An innovation darling of the tech industry, hackathons have been introduced to more traditional industries.
Multiple research supports the theory that engagement and innovation reinforce each other.
The core goal of hackathons is to come up with fresh ideas to solve business challenges.
"The difficulty lies not so much in developing new ideas as escaping from old ones."
Economist John Maynard Keynes was perceptive about innovation. Habit is comfortable, and new ways of thinking and doing things differently often require a jump-start to get going.
It's why hackathons or brainstorming events have become so ubiquitous in large companies and many public sector organisations.
Inviting employees to take time out of their regular tasks to conceive and pitch new ideas has proved to be time and money well spent.
At their most successful, a good idea that proves workable and is supported by leadership and embraced by employees can result in a raft of internal improvements.
This culture of internal innovation can lead to new products and services, and put a company ahead of the pack in terms of competitive advantage.
What distinguishes a productive hackathon from corporate theatre?
Lessons from dot.com businesses
Originating in the tech sector, where they were introduced to quickly and intensively innovate, hackathons have since spread into more traditional industries including professional services.
Not only do they serve to shake up established business models and inspire new products and services, but they also help to address core HR issues such as employee engagement and cultural change.
Myles Tehan's first experience of a hackathon came when he worked at realestate.com.au
The digital property advertising company ran internal brainstorming sessions for its tech employees that were spread out over a year. Tehan wasn't a techie himself; he'd come from an operational background, working in the financial sector and insurance.
However, running a team in the dot.com sector that included software engineers and the like, he observed how powerful hackathons were for his tech employees in terms of engagement and job satisfaction.
Tehan is now managing director of Hack Days Australia, which organises hackathons.
Nearly half of his clients are non-technical businesses, and a large percentage is using hackathons to work out a business concept rather than a product prototype.
Charting the evolution of the brainstorming events, Tehan says initial resistance isn't uncommon, particularly among non-tech departments.
"At realestate.com, sales and finance were a bit resentful about the hackathon days. I remember a finance manager saying to me: 'Our world stops for two days every time one of these things goes on'."
However, minds changed after productivity roadblocks experienced by the sales department became the focus for a hackathon.
Seventy staff across IT and sales signed up to collaborate in small groups. Relationships were forged and ideas emerged that then resulted in new tools being developed to help sales improve their operations.
Perhaps more important, Tehan says, were the professional relationships that were forged during the event.
In one example, IT staff asked to go on the road with the sales team to observe and learn about their hurdles and objectives.
"One of the understated key drivers of a hackathon is the ability to bring together professionals to walk in each other's shoes," Tehan says.
"Even one or two hackathons a year can work. You then have these different divisions that will continue to collaborate."
Food for thought in the finance sector
Dayle Stevens, chief data officer at AGL Energy and formerly at National Australia Bank (NAB), agrees that a huge benefit of the hackathon is to remove silos and invite cross-team collaboration.
Originally a sceptic herself, Stevens says it's about adopting a different mindset.
"I've worked in financial services firms, and hackathons are not the typical way you address financial budgeting, like we faced at NAB. Initially my view was: 'I can't afford to allocate people's time on a two-day program,' but now my feeling is I can't afford not to.
"A hackathon isn't just for people who want to launch their own start-up.
"It is a quick way to access ideas: some are going to be rubbish, but one or two will be gold that will make a difference. It may be simply finding a new way to engage with your customers or how to improve wellbeing at work."
At NAB, one idea that emerged from a hackathon had a significant impact on the culture of the organisation. Staff who grew their own produce were encouraged to bring their crops to work.
"Then the question became how do we share and exchange? The feel-good factor was so successful that NAB staff went on to collaborate with food rescue charity Spare Harvest," Stevens says.
The #SheHacks movement
Stevens has a particular interest in how hackathons can be used to encourage women's participation in business innovation.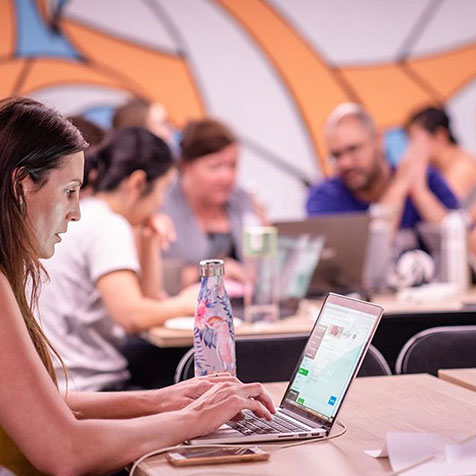 At NAB, she led a women in technology program, and got the bank involved in the first #SheHacks event set up by the Girl Geek Academy, now the longest-running hackathon series in the world for women and non-binary people.
"Hackathons grew out of technology that was in part a male-dominated industry.They would happen over a weekend, people might work overnight – it wasn't an environment that women naturally stepped into."
By contrast, the first #SheHacks event had a yoga break and ran from 8am to 8pm.
"Just being conscious of people's different lifestyles and designing events that encourage more people to take part in – including men who appreciated family-centred hours – was a good thing," Stevens says.
"The other side is that getting a group of women together encourages them to be heard and helps them gain confidence in speaking up."
Hackers, hipsters and hustlers
Where the Girl Geek Academy has been really successful is breaking down the notion that hackathons are only for IT nerds.
The academy has defined three types of people who are required to make a hackathon gel – the Hackers, Hipsters and Hustlers – and they ask people to self-identify before a brainstorming session.
Stevens explains what each group brings.
"If you are going to create a new app, for example, then you need someone who knows how to code; that's the Hacker. You also need the Hipster, someone who is tapped into the problems and solutions and what people are going to engage with.
"Then you need the Hustler, the person who is going to make it happen, run the project and put it to market. There's no point building a piece of code if no one is going to buy it."
Innovation theatre
Even if you manage to get the right mix of people in the room, what if the activity results in nothing more than a form of "innovation theatre"?
When a good idea has been identified, then leadership needs to commit people and resources to validating it.
"What's hard is that you can't quarantine what you need before you run an event. That comes back into broader innovation and directing resources to the right people," Tehan says.
Post-hackathon, key stakeholders need to be involved early in testing ideas with quick-burst delivery to get feedback. Ideas that don't work should be killed off quickly, says Tehan.
"It's challenging sometimes, when people have pet projects that they are reluctant to let go of. That can be dangerous if they are decision-makers in the company and can push forward.
"You have to go back to the metrics to see if something merits being taken to the next level, and there may be disappointments that need to be managed."
Tehan also warns against seeing hackathons as a silver bullet instead of part of a wider innovation capability.
"I had a client who had a budget to run a hackathon on the theme of project acceleration. They were in the middle of a big tech transformation that was behind schedule, and frustration had set in among staff. They thought a hackathon would reignite enthusiasm."
Tehan advised against it, instead suggesting it was a theme to return to once the technology was bedded in.
Model innovators
A recent KPMG/Innovation Leader survey is instructive in showing what sets model innovators apart.
It found that model companies had committed to innovation pathways or had systems in place as part of their corporate strategy.
These businesses were more likely to offer employees incentives to get involved, such as recognition and awards, dedicated time to develop projects, bonuses, seed funding, or even a stake in the successful end product.
Measuring impact is also key to hackathons being taken seriously by senior leaders and preventing disillusionment among employees. Yet companies don't often do this.
KPMG found that 41 per cent of the businesses surveyed hadn't established metrics to track the financial impact of their work. It's not just a case of measuring cost savings or new revenue generated; gauging the impact on staff retention, employee engagement and improved culture are also part of the equation.
Multiple research supports the theory that engagement and innovation reinforce each other.
The more people have a voice in a company's innovation program, the greater the diversity of participants with a variety of life experiences and ideas, which has been shown to lead to higher-quality ideas and better end results.
The KPMG report also points out that CFOs have an important role to play in innovation programs.
It notes: "CFOs are being increasingly relied on to help create strategies that move beyond traditional finance measures, including building an agile portfolio that balances the needs of the business today with long-term growth investments."
While the core goal of hackathons is to come up with fresh ideas to solve business challenges, it is often the journey that is as important as the destination.
What the KPMG survey shows is that if the impact of a hackathon can be sustained beyond the event and demonstrate its value, new ideas are more likely to be embraced by a company and embedded into the culture.
Three hat hackers
While the term "hacker" is often associated with cybercrime, its origin is not connected to computers. "Hacker" originated in the early 1960s, when members of MIT's Tech Model Railroad Club modified or "hacked" their high-tech train sets in order to adjust their functions.
Today, the term can refer to the intentional compromise of computer security, open- source software development, or the generation of innovative or entrepreneurial ideas.
Hackers are generally characterised by the metaphorical hat they wear. While black-hat hackers are cyber criminals that gain access to computer systems for personal or financial gain, white-hat hackers compromise computer security systems for legal purposes – they may be employed to test an organisation's computer security systems, for example.
Hackers can also wear a grey hat, and their motivation sits somewhere between black and white.
They may look for vulnerabilities in a system without the owner's permission or knowledge and, if issues are found, they may report them to the owner and request a small fee to fix the problem.