At a glance
The success of many niche-market businesses stems from being part of "mega trends" such as digitisation and sustainability.
One such mega trend has been consumers seeking out local producers amid widespread distribution challenges.
Niche business need not be limited to consumables and clothing, but also to services such as accounting and finance.
Rannia Al-Salihi (pictured above) has channelled her frustration with the fashion industry into creating a unique small business.
The 27-year-old former investment banker from Melbourne was angry about "fast fashion", and how her own patterns as a consumer were contributing to the growing problem of waste.
"I really felt that I needed to address this on a personal level, so I looked into how I could customise my own clothes, so I wasn't over-purchasing," she says.
"I realised that, while this was possible at the premium end of the market, it wasn't that easy in essential wear, so I started to think about a business that could do that."
The result is her start-up business First Principles Denim, which gives customers the opportunity to design their own jeans online with the help of a "denim consultant", who works with them to make sure the garments fit them perfectly and reflect their distinctive taste.
"You can make a dramatic difference through allowing a customer to have a little bit of control, and they are likely to repeat purchase and keep their items for longer," says Al-Salihi.
"We actually want our customers to buy less frequently, because we want them to wear their jeans for longer. Our idea is that we are transparent on sourcing and production, and minimising waste to be cleaner and less impactful – but design is also core.
"We also change jeans to shorts, use offcuts to make jackets, we repair holes – anything we can do to promote the longer lifecycle of an article of clothing."
Mega drives
First Principles Denim is playing into several of the so-called business "mega trends", which have given a wave of momentum to niche and local businesses.
Digitisation is at the heart of communicating with the customer, offering convenience to the buyer and the potential for scale to the business.
Then there is the move towards sustainability and ethical sourcing, and there is also a local angle.
During the COVID-19 disruptions, Al-Salihi says many of her new customers were from Melbourne, and they were happy to know they were supporting a small local business.
Finally, there is the product itself – bespoke, personalised and aspiring to be high quality. Because the business is customer-driven, there is a flexibility in what First Principles Denim can offer.
In a world of generic garments, a daringly designed pair of First Principles jeans is unique and distinctive, and a creative alternative.
A story to tell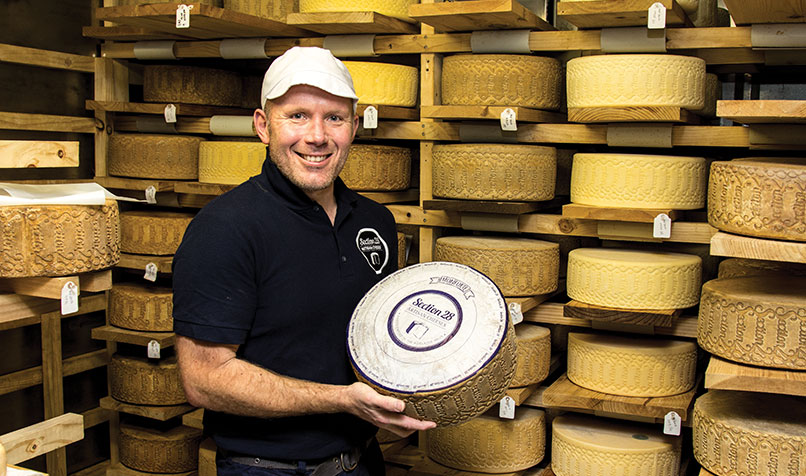 Because they are driven by the passion of their founders, niche businesses often have an interesting story behind them. This is the case with Section28, an award-winning artisan cheese businesses based in the Adelaide Hills.
Like Al-Salihi, Section28's founder Kym Masters is a former investment banker who had a "life pivot" and decided to follow his passion.
There is a steep learning curve in transitioning between finance and food, so Masters knocked on the door of cheesemakers in France, asking for an opportunity to work and learn, and was finally taken in after many knockbacks.
As a cheese business, Section28 is both niche and unusual.
The company, named for the surveying title of the family farm, makes aged Alpine-style cheeses that are not commonly made in Australia.
All the milk is sourced from one local herd, which Masters judged to be the best available.
The customer base is also niche, with Section28 selling largely to "white tablecloth" restaurants on the Australian eastern seaboard.
"From a business perspective, we had a high initial capital investment and a long lead time to make our product," Masters says.
"That should be a terrible business model for a start-up."
Undaunted, Section28 has thrived as its unique product has been embraced by restaurants, for whom offering high-quality premium products is also a differentiator.
Since its beginnings in 2015, Section28 was enjoying 100 per cent compound growth before the COVID-19 pandemic, and still grew by about 10 per cent in 2020.
"We had A$100,000 in forward orders, and they were cancelled, and monthly orders of A$60,000 were cancelled in five days," says Masters.
While that may have destroyed many small businesses, Masters says he is fortunate in that Section28's product improves with age.
"The average age of our cheese is nine to 15 months, so we just aged our cheeses out and put an extra six months on them, so we've been lucky," he says.
Cream rises to the top
In the personal care market, natural deodorant business No Pong shares some similarities with Section28 and First Principles. Like Section28, it appeals to consumers who want a more natural product, and, like First Principles, its business model is highly dependent on digitisation for marketing and ordering.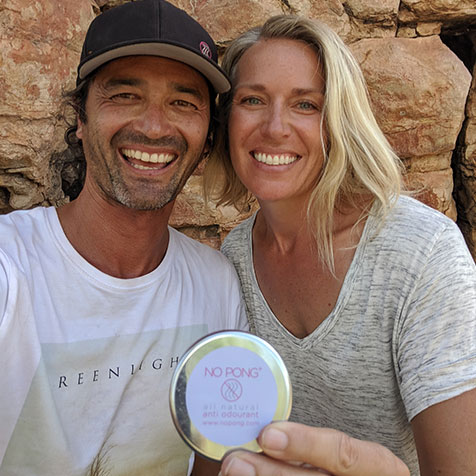 Founder Chris Caley came to the idea after pouring significant funds into an earlier start-up, a digital platform for people to share the use of their drill bits.
"That was a solution looking for customers, and there weren't any, but No Pong has had success because it is completely customer driven," says Caley, who operates the business from the East Timorese capital of Dili, where his wife Melanie McVean is head of midwifery at the city's hospital. "The macro level trend is a shift to people being more health conscious about what they are putting in and on their bodies."
Caley explains that it was McVean who provided the germ of the idea that became No Pong. She made a natural deodorant for herself based on coconut oil, which Caley used on a surfing trip to Bali in 2015 when he ran out of his own chemist-purchased deodorant.
"I thought, 'This is snake oil, it won't work', but it did, and then the light bulb went on," he says.
Caley says he ran out, got some pens and paper and did a 24-hour "hackathon" with McVean to come up with a basic business strategy.
"We said, 'If it works, then great; if not, then let's kill it'," he says. "But it's been really successful, and we've scaled it from there."
The deodorant formula is several generations further from McVean's early recipe and is now manufactured by a contractor in Brisbane, with fulfilment handled from a logistics centre in western Sydney.
Customers order online, and 10 per cent of the base are subscribers paying a monthly fee.
After launching in 2015, No Pong has sold more than one million units and has more than 170,000 customers.
"But we don't think of ourselves as niche," says Caley. "We just think of ourselves as making the best natural deodorant we can for an affordable price, and have found a really good product to market it.
"Instead of niche, I think with our business and with others, it is a case of the cream rising to the top and smaller players doing things faster and better."
Plans for the future
These businesses are all addressing very specialist markets, but they have this in common – while growth is welcome, they are all content to simply get better at what they do.
At Section28, for example, Masters says his ambition is to be able to grow the business so it can increase the percentage of milk it takes from its dairy farmer from 40 per cent today to 100 per cent.
"There's also just a strong focus on continuing to improve our product," he says.
At No Pong, the company has introduced a second fragrance, driven by customer demand, but there is no grand plan to take on the majors.
"We need to give our wholesalers a bit more love, but the plan is to stick with what we are doing and see how far it can go organically," Caley says.
At First Principles, the growth strategy is to continue with what Al-Salihi describes as "wardrobe essentials".
"We could expand beyond denim, perhaps, but always with that focus on essentials," she says.
"Once you have that relationship with customers, and in our case you know their body shapes and their taste, you can extend, but we are focused on those two principles of customisation and sustainability as the core of what we do."
Accounting niche
Niche businesses are not confined to foods or consumer products - they also exist, and thrive, in the world of professional services and accounting.
Leigh Conlan CPA ostensibly retired as a partner in a Melbourne-based accounting practice about 10 years ago, but now has a thriving business helping start-up businesses prepare their applications for the government's Research and Development Tax Incentive scheme.
Working with him in the business, Specialist Accounting Services, are his scientist daughter and engineer son.
"They really help with putting the technical aspects of an application together, and that's really important for these applications," says Conlan.
The clientele is largely unlisted start-up firms in Victoria in the IT and biotech industries, and much of the work comes from other accountants whose clients need specialist help.
"The firms that bring you in know they are not going to lose a client to you, and they are going to have access to specialist assistance," says Conlan.
Another Melbourne-based accounting firm with a niche specialisation is BNR Partners, which has expertise in estate planning for trustee companies. "We fell into our area of estate tax specialisation by good fortune," says Ian Raspin FCPA, a BNR director.
"The prior partners had established a financial planning relationship with a listed trustee company as, at the time, financial planners where not keen on advising on direct equities and, in particular, holding business real property in self-managed super funds (SMSFs).
"That trustee company had their own internal tax team and asked us to come in as an independent and undertake a review, as the division was running at a loss.
"We were then asked to assist in meeting their annual tax program for the year, which we did, without perhaps a full comprehension of the massive sharp learning curve of the estate taxation nuances and complexities involved. By throwing everything at it, we somehow, however, succeeded."
While the legal sector is traditionally closest to the administration of estates, specialist accounting skills have differentiated BNR and helped create a strong business, in what Raspin says is a "very slow and hard market".
Over time, BNR established a national brand as an authority on estate taxation. It now receives regular referrals from legal practitioners from right across the country and, on a number of occasions, has been appointed directly by Supreme Courts.