Until two years ago, Accolade Wines had outsourced the bottling of many of its sparkling and still wines, including House of Arras, Grant Burge, St Hallett and Croser. In 2021, the business wanted greater capability to manage and enhance its brand offerings internally. That meant making the decision to own the entire production process.
A state-of-the-art, automated packaging facility was designed and built at Berri Estates in South Australia. This facility is attached to the largest winery in the Southern Hemisphere, and it can bottle more than 100 million litres of wine per year.
The global supply chain for Accolade Wines has benefitted from the change. The automated facility has improved efficiency, reliability, performance and quality control of the production line. The data it produces, when analysed by digital factory platform TilliT, has offered the business an entirely new level of insight into its processes.
Derek Nicol, chief supply chain officer at Accolade Wines, says the change has increased the performance of the supply chain. "If you are not monitoring these things, you are relying solely on humans. Let's be honest, humans all have different interpretations, but data does not lie."
"The technology has given us the ability to track and improve our processes. It is a great example of us taking a decision to improve things, but also using data analytics and technology to support and enhance more of the business," Nicol says.
Importantly, Nicol says the business did not try to transform every part of its supply chain. That would have been overwhelmingly difficult, distracting and expensive.
Instead, Accolade Wines focused on one part of its supply chain. The decision to do this came only after a specific business need was identified – to have greater control over product quality.
"Do you want to do it in bite-sized chunks, or do you want to digest the elephant whole? It is much better to do it step by step.
"The systems that support your supply chain are fundamental. Supply chain is about making sure you get product to customers. Anything that interrupts that is painful, so do things gradually, and always start with the end in mind," Nicol says.
5 aspects of business resilience from 5 viewpoints
Technology as a means to an end
Brad Hilder FCPA, COO of transportation company SRT Logistics, says that businesses need to start at the end. A business must know where it wants to go before starting its supply chain transformation journey.
"Each business should look at what it needs and the specific challenges it faces," Hilder says. "If it approaches the process of bringing tech into its supply chains by first understanding the outcome it wants to achieve, it will drive better business decisions."
As technology and data analytics are proving to have a powerful influence on performance, reliability and transparency of modern supply chains, such transformation is no longer optional, Hilder says.
What is required is for businesses to recognise the investment as the performance enhancer that it is, rather than seeing it simply as an extra cost.
"Technology is becoming much cheaper. Access to technology, particularly in terms of 'software as a service', means you do not need to invest in hardware, in servers, and so on," Hilder says.
"Yet a lot of smaller businesses are afraid of this process because profit margins are tight, and they see technology as an additional cost. They are not seeing that it unlocks additional benefits and makes excellent business sense.
Even if it is just 'software as a service' to provide one small solution, it will make their business stronger and more profitable and reduce costs in other areas," Hilder explains.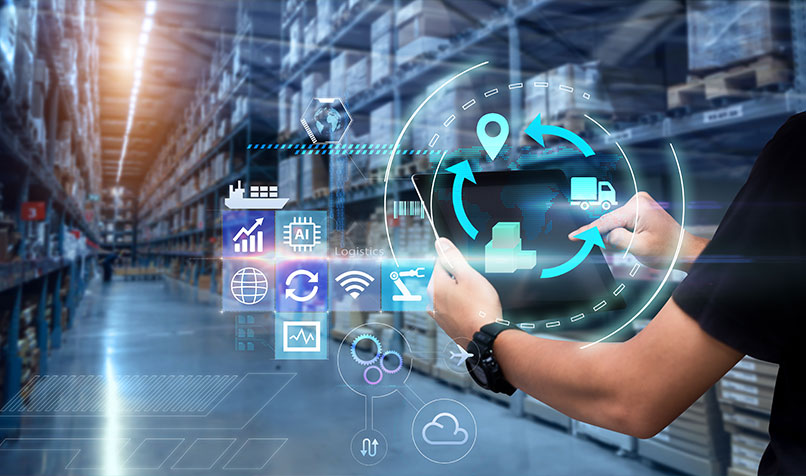 SRT Logistics is a transporter of food and grocery items that turns over about A$100 million annually. The business has 360 staff, 170 semitrailers, three distribution centres in Tasmania and one in Victoria, and satellite operations in Sydney and Brisbane.
As a key business in Australia's supply chain – servicing Woolworths, IGA, Bega Dairy and Drinks, and about 400 other customers every week – its success is all about constant improvement.
A recent focus for SRT Logistics has been driver safety.
"We are sending drivers in prime movers between Melbourne and Sydney, for example," Hilder says. "A lot of the driving is done overnight, so just knowing where the vehicles are, and deploying onboard telematics so we can see speed, harsh braking and swerving etc., is important."
SRT Logistics has also recently installed Seeing Machines in its trucks. These artificial intelligence systems monitor drivers' eyes, looking for signs of fatigue.
If signs of fatigue are present, the machine shakes the steering wheel and the seat, and sends a real-time alert to a control centre that is staffed 24/7, so control centre employees can get in touch with the driver.
"If businesses like ours can reduce the number of fatigue-related incidents that happen on the road, it makes our operations and the community safer.
"Data analytics and technology are playing a big part in making businesses more sustainable by identifying what is not working and the stuff that is. In doing so, it makes businesses work smarter," Hilder says.
For many clients of SRT Logistics, supply chain technology helps them work more efficiently by alerting them about when stock will arrive and where that stock is at any given time.
"Think about the back of a Woolworths store and how busy it is when a truck arrives. When the client knows when the inbound logistics is going to land, it helps the store manager to ready the store and make sure the right people are there to receive the stock.
"For smaller businesses, similar tracking technology means they can have confidence that the right product is going to end up at the right destination on the right day, and they will have real-time proof of delivery," Hilder says.
One process, Hilder says, is to identify what is not working in your business, then find out what technology is available to fix that issue.
For example, with the pandemic and flood disruptions to supply chains, there has been an increased level of activity in renewing regional stock holdings, Hilder says. Rather than the 'just in time' minimal stock holdings that worked five years ago, businesses are increasing inventory levels.
Rather than doing this with spreadsheets and guesswork, they are using data analytics to understand the spread of products and materials held within their distribution centres or warehouses and to better predict demand.
"Real-world data enables businesses to identify what they need and when," Hilder says. "It also reveals what is sitting idle and tying up working capital, giving a much better idea of which SKUs are trending and profitable, and which are not."
Leverage existing technology
Much of the value of technology and data comes from the fact that it is so openly available. If a small or medium business does not have the data it needs, somebody else will, typically.
Cora Group is an Australian-owned, integrated freight and logistics management company. It serves as a good example of an organisation that uses data and tech to boost the performance of its client businesses.
Cora Group finance manager Anthony Mason ASA says the company specialises in multi‑carrier domestic freight consolidation and consults across the entire supply chain for each client.
"We have a suite of carriers, and each one of those businesses generally specialises in a particular type of freight and delivery type.
"We use tech to consolidate our customers' needs, putting forward a multi-carrier solution for customers with complex supply chain requirements. That leads to increased visibility, cost savings and efficiency gains," Mason says.
The most valuable offering that comes from technology is not always a total game changer along the lines of the ability to see previously invisible trends, Mason says. Sometimes game changers happen, but often technology simply helps a business to do something more efficiently. In doing so, it saves time, money and resources.
"It is often the multiplication of each layer of business operations that makes change and digitisation so daunting and difficult," Mason says.
"There are a number of major brands that, after significant investment, have digitised and optimised their end-to-end supply chain.
"For most businesses, this is not immediately achievable and they have to piece it together themselves. If you can find a way to consolidate some of the key elements of your supply chain, it can very quickly give you a competitive advantage."
Where does a business start? Mason recommends looking at the major challenges or strategic objectives. Perhaps consider a challenge in terms of customer experience, business efficiency, cost minimisation or environmental impact.
Each of these would offer a different starting point and lens for a technological solution. Engaging the people within your business is often the best place to start, Mason says.
"Technology can make businesses go from good to better to best," Hilder adds. "What we should be striving for as a business community is to always be our best. Good is good. But to be the best at something – that is where we should be aiming."