At a glance
Public practitioner Sarah Lawrance CPA is founder of Sydney-based accounting firm Hot Toast.
The company provides services to businesses in advertising, film and technology, all of which have been affected by the COVID-19 lockdown.
Lawrance believes that strong client relationships are vital in the constant scenario planning required in uncertain times.
Sarah Lawrance CPA is founder and "chief dreamer" at Sydney-based accounting firm Hot Toast, which offers outsourced CFO services to the advertising, film and technology businesses, industries particularly hard-hit by the COVID-19 enforced lockdown.
"Television in Australia is a huge industry, and all of a sudden, the Survivors and the Bachelors were cancelled, so there were a lot freelancers just sitting it out," she explains.
Like many other public practitioners, Lawrance saw some clients who were not in the greatest position financially before the crisis drop off quickly.
However, her main client base is on a relatively healthy footing, and she says she has now moved with them "from that survival stage to the planning stage".
Lawrance says she marvels at how some of her clients have taken the opportunity to make changes to their business when the pandemic hit.
"One of our big production company clients, Thirteen & Co, was probably one of the first companies in the production space to get out there and start shooting again. It did its first virtual shoot for one of the big banks.
"A skeleton crew, the talent and the producer were on set, observing the social distancing rules. Meanwhile, everyone else was working on remote screens, from the director to the client and the agency."
Lawrance has also recently taken on a new client, which specialises in pandemic crisis management. The business is based in Australia, but services businesses in the US, using contractors from across the world.
"There's been little moments like these, where people have become quite innovative. It's actually been really nice to see some of our clients pivot a little and respond to the crisis really well."
Because Hot Toast's business model is centred on offering outsourced CFO services, Lawrance has been able to develop deeper relationships with her clients.
"I've been very lucky. We have more touchpoints, and we have those relationships in play."
This has put Hot Toast in a good position in terms of scenario planning.
"We could work with clients around possible outcomes over one-week, three-week and six-month periods. Having said that, all scenario planning in uncertain times is difficult and never 100 per cent accurate."
How it all began
Four years ago, Lawrance was working long hours as financial controller for a film production company in the advertising space.
"I got to the stage in my life when I thought, why couldn't I be doing this for myself? I always knew I wanted to run my own business, and I think the timing was right, so I thought I'd take the leap," she remembers.
Specialisation was key to her business model. At first, she thought that film production companies would form her exclusive future client base, but the money just wasn't there.
Instead, Lawrance found a niche in the digital creative industries centred on advertising.
"A lot of people had come out of the big [advertising] agencies and were starting their own outfits. These are the superstars who are nimble and agile and can service clients in a way that those bigger agencies can't.
"I love agencies, because I come from a fast-growth background and like to explore how [my clients] can grow quickly and scale, and how we can help drive that."
Understanding the operational side of business is key, she says.
"I think that it's so important in public practice that we are not just looking at the finance side, but also the business."
For Lawrance, specialisation was not just about targeting a market sector, it was also about showing her would-be client base that she understood them. Branding was integral and, from the very outset, so too was a marketing plan.
Consider this post on Lawrance's LinkedIn page, speaking to her client base about the differences between finance and operational:
"I feel your pain when you deal with us. We're left-brained analytical creatures who may as well be speaking in foreign tongues. You're right-brained touchy-feely creatures with a yearning desire to create and uncover human truths.
"We don't usually mesh. Which is why we don't see each other very often. But you and I will."
Then, there's the firm's name. "Hot Toast" may be an unusual moniker for an accounting firm, but it fits in just fine with digital and creative agencies going by the names of Biscuit, Spinach and all manner of comestibles.
"I knew from the get-go that I wanted to brand in a way that spoke to this industry. I felt more part of that industry than I did the accounting industry, and I wanted my brand to be an extension of that. After a bit of brainstorming at the pub, that was how Hot Toast began," she says.
In spite of the initial concentration on marketing, Lawrance says she had to do very little on-the-ground business development. Instead, that constant practitioner standby, word-of-mouth, came to the fore.
"I've been lucky. I've had a really good referral system going with my clients," she says.
Career path, via Barbie and Business Sunday
Lawrance says she knew that working in business was her future when, aged eight, she forsook Barbie for watching Business Sunday with her father, a general manager for a large company in Wagga Wagga in regional New South Wales.
Consequently, she completed a bachelor of finance, in accounting and business finance. After a stint in a public practice firm, where she decided that audit was not for her, she started looking for alternative industries where she could use her finance skills.
She landed at Film Australia (now Screen Australia) as a production and management accountant.
"This was my first experience of sitting between the finance department and the production department. It's great being close to the coalface. I'm not creative myself, but being a non-creative in a creative room, you find there's amazing energy there."
London beckoned, where she worked for actor Ewan McGregor's production company, first as a production accountant and then as financial controller.
"It was amazing being part of the team. I was on set, whereas with Film Australia I was a little removed, as I was still part of the finance department.
"I got the opportunity to be involved in the operations side, which involved licensing. I realised then that you can actually broaden your scope with an accounting background."
Like many young Australians, Lawrance returned home stony broke, but with a wealth of experience. To earn some much-needed cash, she returned to production accounting, working for Endemol (now Endemol Shine Australia) on children's television classics Hi-5 and Bananas in Pyjamas.
The present
Like many public practitioners, Lawrance feels drained and exhausted from 80-hour weeks dealing with distressed clients and the advent of the stimulus package. Although this is hard to tell from her ebullient tone.
"Small and micro firms got absolutely hammered," she admits.
"But the most amazing thing to come out of this is, as an industry, we all just came together through online groups. Everybody was so ready to help each other, with the detail of the JobKeeper legislation and responding to the changes that were happening so quickly.
"Honestly, I would not have made it through if I didn't have that support. We were all running on empty for weeks and weeks. It's probably the nicest thing to come out of this. We are an amazing industry."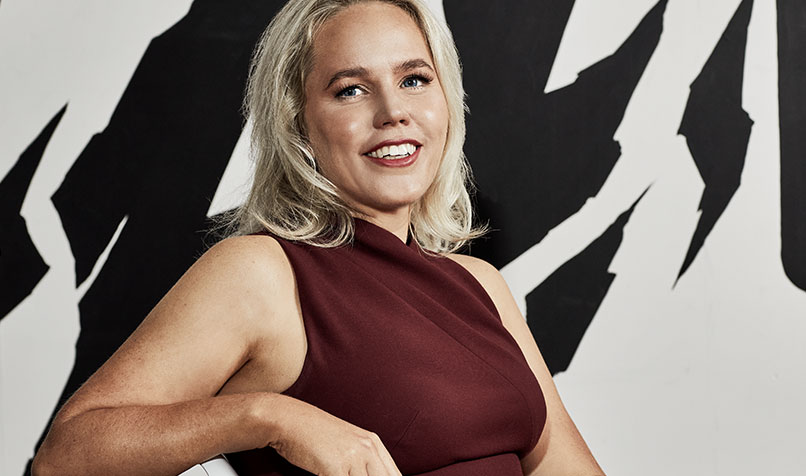 Lawrance looks forward to focusing on how to bring her expertise to an even wider audience. She has set up a home studio, where she aims to broadcast live and do interviews.
"I felt that instead of just talking to individuals, I want speak to a few more people about technical issues and the next steps we might take. I'm getting asked by a lot of tech companies to talk about cash flow and pivoting."
She will post webinars live on the Hot Toast website and LinkedIn. "That's where the need is, and if anyone has follow-up questions, they can get in touch with me. Even if I don't make any money out of it, the intention is to help people. That is what's been really nice in the past seven to eight weeks, where the feeling in the [accounting] industry has been 'how can we genuinely help people?'.
The Hot Toast team
How many people work for Hot Toast?
"There are five of us. We are growing fast because there's this little pocket of opportunity that exists that's not being serviced, but is in desperate need, which is probably why you are seeing a rise in coaches and consultants from non-financial backgrounds. We [accountants/public practitioners] probably need to push ourselves a little bit more. I've recently hired a data scientist to help us straddle technology and the CFO function, which is really exciting."
What surprised you the most about starting your own firm?
"As an employee, you can be amazing at what you do, and that doesn't translate automatically to clients walking through the door the same day that you open your business."
What's the biggest challenge?
"I think it changes. Initially, when you start out, it's about establishing your brand, getting people through the door, having them understand what your service offering is.
"Then it changes when you hit different points of growth. For me now it's finding great staff, which I think is challenging for everyone.
"Then I'm sure it's going to change again, and it will constantly change, but the good always outweighs the bad."
How do you manage work–life balance?
"Exercise is my anchor. I make sure I exercise every day. I have played soccer for years with an amazing group of girls.
"Family is important. I have an amazing husband and two amazing dogs."