There's no shortage of apps that can help you manage tasks, projects, teams and information, but most are designed for a specific purpose or a particular way of working.
There's also the problem of app overload. Businesses now use 83 apps on average, according to data from application management provider Okta. That's up by 43 per cent over the past four years.
What if you could reduce the number of apps you use and work the way you and your team want to? A new type of modular productivity app has emerged that may help. Here we examine a few of those apps.
Notion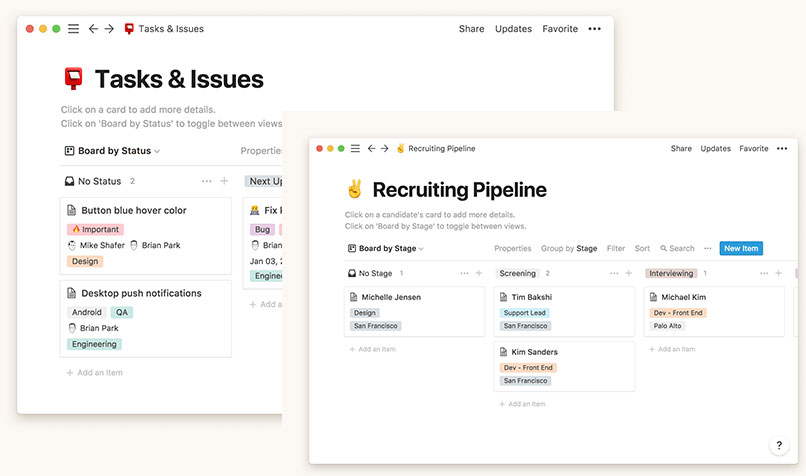 Notion can simplify task management with a Kanban-style view. Notion offers a variety of templates for different teams, including HR.
Tired of switching between different apps when working on a project? Notion puts everything you need in the one place, including documents, notes, tables, tasks, to-do lists, images and more.
Notion allows you to import from a variety of apps, including documents from Word or Google Docs, tables from Excel, notes from Evernote and tasks from Trello or Asana.
You can embed web content ranging from YouTube videos to Google Maps.
The power of Notion is that it allows you to structure information either as free-form notes and documents or in a database. Fields can include numbers, people, dates, files, formulas, links to other databases and more, and you can view that data in several ways: as a table, Kanban-style board, calendar, list or gallery.
Notion can be used by individuals, but, like the other apps covered here, it's designed to enhance collaboration. It allows you to invite others to participate in projects and discussions, and you can control their access to information via permissions.
All this power and flexibility means there is a learning curve. However, Notion's interface makes this easier than you might think. It offers a wide variety of templates ranging from a personal travel planner to a school syllabus and customer relationship management tool.
A limited version of Notion is free, or get the full functionality for US$4 a month. It's available as a web, Windows, macOS, iOS or Android app, and offers a browser add-on for clipping pages from the web.
Airtable
Do you track projects, product lists or other data in a spreadsheet, but find it limiting or unwieldy? Airtable allows you to turn those spreadsheets into highly flexible, database-powered workspaces.
Alternatively, you can use any of the scores of templates available, which range from project management to event planning and customer relationship management, to quickly create a workspace.
Airtable also offers a variety of ways to view data. For example, you can track your projects and tasks in agile-style Kanban cards, a calendar, a spreadsheet-like grid and other views.
With "blocks", you can add a dashboard with Gantt charts, pivot tables and other functions, such as the ability to send an email or SMS.
Airtable is available as a web, Windows, macOS, iOS and Android app. It's free with some limitations, or from US$10 per month.
Coda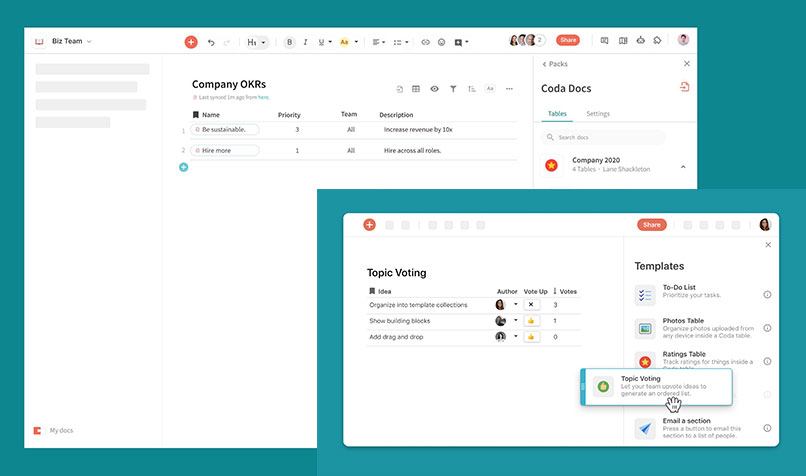 Coda shines as a collaboration platform, with features such as polls. Coda allows you to pull data from one document into another.
Coda is similar to Notion in that it provides a single workspace for you and your team. It works a bit like a content management system that supports a wide range of content: documents, tables, charts based on those tables, to-do lists, polls, photo galleries, contact lists and much more.
It can integrate with a variety of third-party apps, pulling in data from the likes of Gmail and Google Calendar, and sending tasks and other information to apps such as Slack. It even allows you to manage the inventory of a Shopify-based online store.
You can view data via Gantt charts, calendars and more. It allows you to organise your projects by dividing them into sections. You automate tasks, such as sending daily updates, with time- and action-based rules.
Coda allows you to create sophisticated workflows and to this end, it offers templates for apps ranging from product launches to event planning and a content calendar.
Coda is free with limitations, or from US$10 per month. It's available as web, iOS and Android apps.
Other options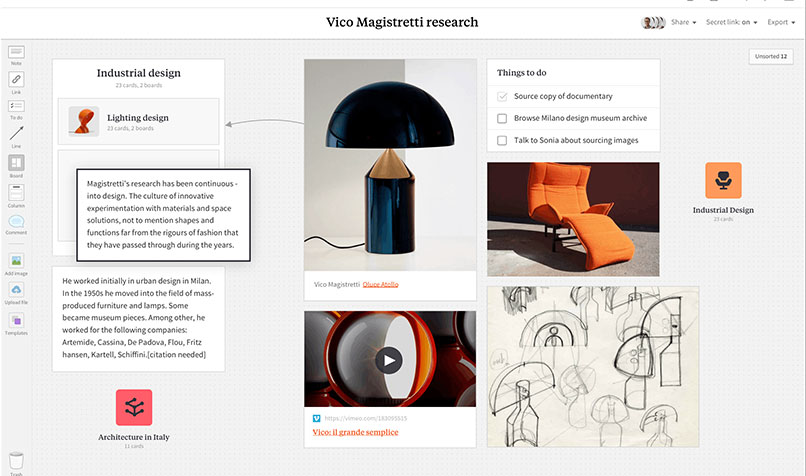 Milanote suits those who prefer to take a more visual approach to their tasks.
Several other apps also offer a flexible approach to improving your productivity.
Evernote
Note-taking apps are a great way to capture and organise information – and Evernote is one of the best in the business. Its "notes" can be anything from a web clipping to a marketing plan – and it offers a big library of templates to get you started.
It allows you to sync notes between your smartphone and computer, and it also has optical character recognition (OCR), so you can scan items such as business cards with the mobile app and turn them into text.
Milanote
This app is like "Evernote for creatives", according to one user. It allows you to organise notes, to-do lists, images and other files into "boards". Its highly visual, flexible approach can be used for multiple purposes – and it offers templates, from brainstorming to customer journeys, to get you started.
Zenkit
This app is more of a project management tool – kind of like Trello, but a lot more flexible. For example, Zenkit offers Kanban, table, calendar, mind map and other views of your tasks and other information.
That flexibility is illustrated by the variety of templates it offers, ranging from a weekly meeting agenda to an inventory and order management app for an online shop.