To start every weekday, the 10 staff and partners who comprise accountancy practice Diagno gather on on a video call for a virtual huddle to discuss their work agenda.
While some of them are in the firm's Southport office on the Gold Coast, or working from their respective homes, Diagno director Kris Fothergill FCPA dials in from a very different location – his family's yacht, Torea VI, somewhere in the South Pacific.
It has been like this for over a year now, and very much business as usual for Diagno ever since the COVID-19 disruptions hit the world early last year, catching the Fothergill family unawares as they were planning the end to their year-long sabbatical.
"We were in the Bay of Islands in New Zealand when COVID-19 first hit," Fothergill says.
"We had flights booked to return to Australia, and they simply disappeared.
"New Zealand had a five-week lockdown, so we stocked up the boat and went with the theory of 'out of sight, out of mind' – dropped anchor on an uninhabited island that had mobile phone reception, and I got to work."
Setting sail
Rewind to July 2017, when the adventure began.
That is when the Fothergills – Kris, his wife and childhood sweetheart Shona, and their four children aged four to nine – bought Torea, a 51-foot Dufour Gib Sea yacht with the intention of taking a family sailing sabbatical.
Torea had come from French Polynesia, but when they went to register the boat in Australia the name was already taken, so they just added a six – in Roman numerals – to her name to reflect the number of family members, "just to get it done and move on with it".
"Dreams are free, but we had been working towards a family sailing sabbatical for some time," says Fothergill.
"The kids had always been home-schooled, with the sabbatical in mind, and we thought our youngest needed to be at least four – that magic age when, if we told them not to jump over the side, they would do what we said rather than testing the boundaries.
"I'd been working in Southport to get Torea sea ready and safe, and often that involved working with my shirt off down in the bilge, and then throwing on a suit and tie for client meetings, often within minutes."
The family set sail in May 2019, enjoying the adventure of a lifetime, with the intention of returning to Southport and to work at Diagno about 12 months later.
"I'd been in touch with the office regularly while we were away in 2019, but when COVID-19 hit, we all just rolled up our sleeves and I went back to work," says Fothergill.
All hands on desk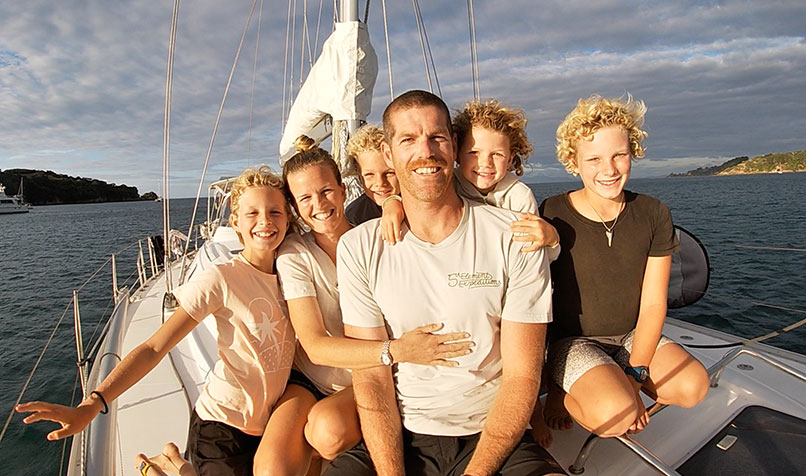 "I'd been through the global financial crisis [GFC], and that was very tough, and I remember in March 2020 thinking that – from a business perspective – this could be it.
"And then the phone calls started. Everyone in Australia with an accountant's hat on would have been fielding these calls from clients – counselling them about what they had to do to keep their doors open, but really you just do your best to listen and to give them empathy and whatever wisdom you can."
The daily rhythm of life aboard Torea VI changed as Fothergill went back to work.
The kids understood that they had to keep quiet while their father was on video or on the telephone, and to choose their moments to be boisterous and jump off the boat.
"We are on a 51-foot vessel, and there's six people doing life together, so there's an element of respect and compromise everybody has to observe, and that's not just for my work," says Fothergill.
Torea VI might have been moored in an idyllic location, but Fothergill was usually below decks or in the cockpit, so he barely noticed.
"I could have been in the office in Southport, grunting through it like everybody else," he says.
As the pandemic hit, the imperative was to communicate with clients and get them information and advice on the government stimulus measures, and to do it as swiftly as possible.
One positive was that Torea VI was always positioned about two or three hours ahead of Australian time, which allowed Fothergill to spend the morning scouring the web to download the latest COVID-19 developments and drafting a communication update for clients as they arrived at work in Australia.
"Fast-forward to now, and we haven't lost a client business to COVID-19 so far. I think that's a huge testament to the team and the incredible work they did supporting clients," Fothergill says.
Suiting up
It was during the pandemic that Fothergill got back into a suit and tie, along with his boardshorts, although the latter were hidden from the camera.
Diagno, he says, has always been a "suit and tie firm" as a point of difference in the typically casual Gold Coast market, but he hadn't packed any business clothes when the family left on their sabbatical.
"All of a sudden, I found myself in the Bay of Islands and needing to jump on Zoom with clients, and they are used to seeing us in a suit and tie, and I really needed to step up the dress code because, as a firm, that's how we roll," Fothergill says.
"Luckily there was an op shop in this one-street town near where we were moored, and I managed to pick up someone's old business shirt and a A$2 tie, and it worked, and it's still working."
Although the op shop shirt and tie are still in frequent use, Fothergill doesn't have a dedicated office space on board Torea VI.
He moves his laptop from the saloon to the cockpit, depending on where the family are doing their home-schooling.
Most often, he uses the most neutral backdrop he can find, rather than loudly advertising his exotic locations, because that can be a distraction to the work.
In terms of connectivity, he is usually tapping into the hotspot on the same mobile phone he used in Southport.
"We have a satellite phone, but I would have used it for maybe 2 per cent of the time," Fothergill says.
"The coverage out in some of the remote islands and places we have visited has blown our minds.
"We were about 50 nautical miles away from Vanuatu, and all of a sudden I got a message on my phone saying, 'Welcome to Vanuatu, for an extra A$5 a day you can use your mobile phone just like you do in Australia'."
Navigating stormy waters
Fothergill joined the firm at 19 as a recent university graduate and says that he received "phenomenal support" from the founding partner, who originally employed him.
"I became an equity holder in the firm far too young, in my 20s, and then we were hit by the GFC, and I think I really earned my stripes there," he says.
"We had just repositioned geographically to Southport and rebranded the firm as Diagno in 2008, so we had really made a big investment, and then the hammer dropped with the GFC, so that was tough.
"But I grew through that, and I've been at the firm for about 16 years. It's been an amazing platform as a family, and in the last few years my role has been more about leadership than it has about accounting."
A big change came in 2015, when the founding partner announced that he "wanted out" and was off to set up a tapas bar in Vanuatu.
"We always knew that it was going to come to an end at some point, but it was a few years earlier than expected," says Fothergill.
At that point, Fothergill and the founding partner were 50/50 equity holders in Diagno.
"I had to make a decision, so I cut the cheque and we owned 100 per cent of this thing, but it was a big beast for us," he says.
"I cracked on, rolled the sleeves up and managed to attract a couple of key people into the firm and sold down some equity.
"But it took a few years for me to be able to take that sabbatical and step out of the firm for a period, while still being involved."
Living the dream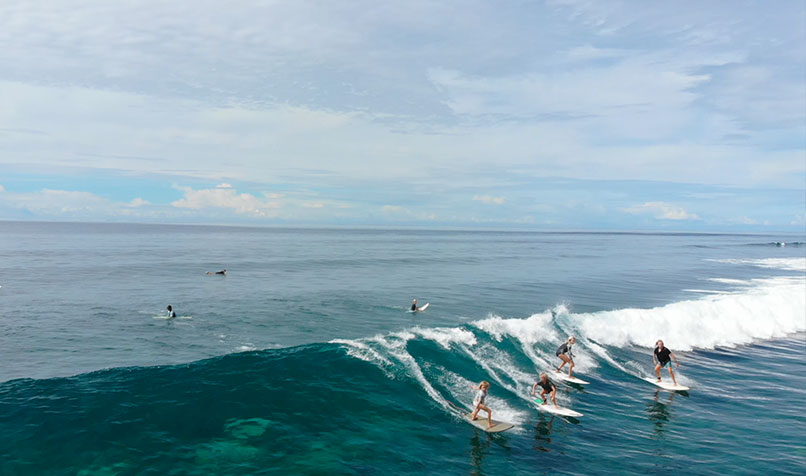 Fothergill's daily involvement in the firm has reduced as the COVID-19 crisis has receded, and his remuneration has been adjusted to reflect this.
"I am still here on a daily basis, and if anyone wants to find me, I'm here; but the team is forging ahead on the Gold Coast with me out here, and that is a credit to them," he says.
"I'm still on tap, but not working to the same capacity, so the firm shouldn't be forking out, regardless of whether it's me or someone else."
The Fothergills have no immediate plan to return to Australia, as most borders in the South Pacific remain closed.
They are spending the cyclone season in Fiji and taking advantage of "spectacular world-class surf breaks" – empty of tourists – at nearby reef breaks.
"We are surfing out of our skins most days," says Fothergill.
He says he hasn't met many accountants out on the waters of the South Pacific, but would encourage others to do what he has done.
"I'm hoping what we are doing can inspire other people to understand they can organise their work and still have some great adventure in their lives.
"It might not be sailing, it might be something else, but if we can plan and make this happen for our family, I'm sure we aren't the only ones."
Sharing the adventure with his young family has been "unbelievably special" and something that will only seem more incredible as the years pass, he says.
"This life on the sea that we are living – yes, there's a highlight reel, but there's a lot of elbow grease and some grit that is required to make it happen," says Fothergill.
"It's certainly not for everyone, but it is for us."
Running a tight ship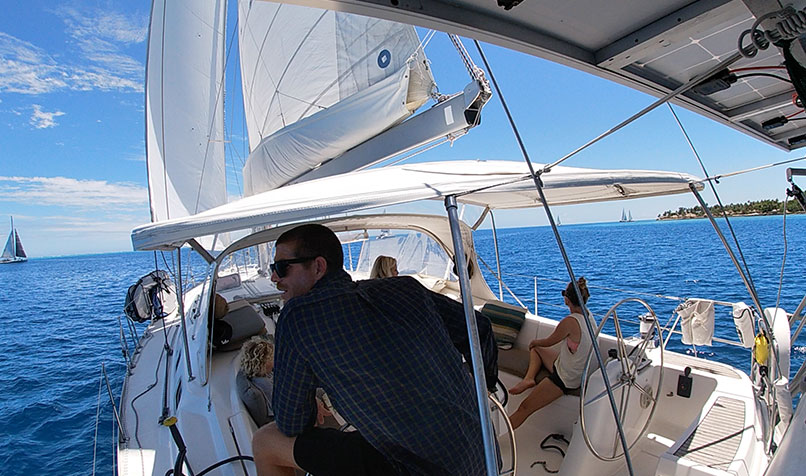 In addition to technology, the other major factor enabling Kris Fothergill FCPA to work remotely is his colleagues at Diagno.
"We have an incredible team, and without them, it doesn't work," he says.
Over the past decade or so, Fothergill has carefully built Diagno's team in a way that allowed him to maintain his involvement with the firm while overseas without compromising what is delivered to clients.
"The key to it all is reducing key person risk dependency," he says.
"So people don't see their accountant as 'Kris Fothergill', they see their accountant as 'Diagno'. To do that, you need to get really good people around you.
"I intentionally reduced my key person dependency, and that meant investing in some key people along the way. In doing that, I've armed them and continued to have their back and they have mine."
Keep up with the Fothergills
Visit the Fothergill family's website and social media page for regular updates. Video updates can be viewed on the family's YouTube channel, Sailing with Six.