The garbage dump is not just a load of old rubbish. Enlightened minds, sophisticated technologies and the threat of an unliveable planet are driving a recycling revolution that is quickly transforming itself into a huge global business.
As an increasingly populous world generates more waste and pushes demand for resources, and evidence for climate change mounts, recycling has moved from the fringes of industry to become an innovative growth sector and a major part of the global sustainability story.
Nations on board
Out of 35 OECD countries, the recycling leaders are Germany and South Korea, followed by a host of other European countries.
Sweden recently featured in news reports when it said that due to its 99 per cent recycling rate, it now imports 700,000 tonnes of waste from other countries to keep its recycling production lines rolling.
However, that isn't the full picture. Not all Swedish waste is recycled into other products; up to 50 per cent of the country's waste is used to generate power to heat 250,000 homes during its harsh winters.
Despite a common goal of reducing waste, every OECD country takes its own approach to recycling. Trailblazer Germany passed a law in 1991 requiring manufacturers to take responsibility for the recycling or disposal of any packaging material they sell.
Polluters pay by weight in Switzerland, where householders put pre-paid stickers on their rubbish which is later weighed at a central collection depot.
In the US, it's a state-by-state story. The closure of numerous recycling plants during the past two years, due to nose-diving profits, has rekindled debate over the benefits and affordability of the current recycling model, and now private enterprise has stepped in.
Some of the world's leading companies – including Colgate Palmolive, Coca-Cola, Goldman Sachs, Johnson & Johnson, PepsiCo, Procter & Gamble, Unilever and Walmart – have banded together to create the Closed Loop Fund, which provides low-interest loans to companies and zero-interest loans to municipalities in the US to kickstart innovative recycling projects.
Australia's household heroes
OECD figures released in 2016 showed that when it comes to recycling, Australia sits in the middle of the pack. It ranks 13th in the OECD, one spot behind the UK, but ahead of France, the US and Canada.
It is domestic households that are leading the way. Australia's kerbside recycling rates are among the highest in the world, according to Mike Ritchie, who consults to governments across Australia on waste management and recycling, waste generators and processors.
Australia's 24 million people now produce about 50 million tonnes of recycled waste, averaging more than two tonnes per person. Between 1996 and 2015, Australia's population rose by 28 per cent but the amount of waste that was recycled increased by 170 per cent.
As recycling grows, the amount of waste being sent to landfill is declining. Australia has passed the tipping point and now recycles about 58 per cent of its waste and landfills the rest.
However, recycling by Australian businesses is lagging behind the country's households, says Ritchie. Despite this, recycling is Australia's only growing manufacturing sector, says Ritchie.
Making economic sense
Worldwide prospects for the recycling industry also look promising. Technavio's Global Industrial Waste Recycling and Services Market Report 2016-2020, released in December 2015, predicts the waste recycling and services market will see compound annual growth of more than 12 per cent up to 2020.
The need to conserve and reuse resources is just one driver of this recycling revolution. "
The waste industry can lead the way to creating the sustainable, low-carbon future we need," insists Ritchie. "By focusing on profitably eliminating wasted resources, we can make climate change action happen."
However, what's really spurring the world's governments, businesses, infrastructure developers, waste industry operators and investors into action is economics.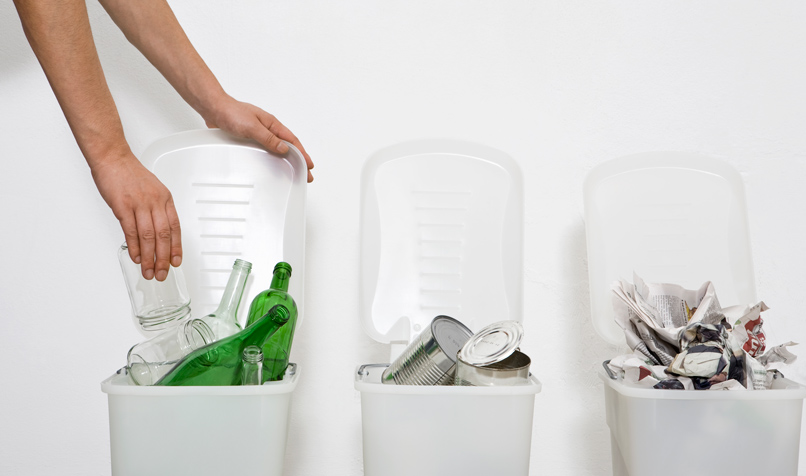 In many countries, economic levers are being pulled strongly to entice behavioural change. Falling commodity prices have dealt a blow to the recycling market in recent times, lowering international prices of popular recyclable materials – glass, plastic, paper and cardboard, aluminium and steel.
In response, in most Australian states and many other locations internationally, levies on landfill now deter waste dumping and ensure recycling rates keep mounting.
"Governments tend not to subsidise commercial sector recycling, so they make landfill more expensive than the alternatives to create a price signal for companies to voluntarily recycle," says Ritchie.
"In NSW, for example, selling a tonne of cardboard to landfill today costs about A$300, while recycling it could make you A$100, so there's a A$400 turnaround."
Even more profitable are metals, where landfilling a tonne of steel or aluminium costs A$300, while selling it for recycling will earn A$140 for steel and A$1400 for aluminium, Ritchie estimates. Yes, the value of those pet food cans in the bin is directly related to the international metal price.
Innovation the problem solver
Globally, the industry is sparking innovation, creating new energy sources and products, and generating jobs, as it delivers inspiration to inventors, environmentalists, engineers, scientists and entrepreneurs.
At some waste companies, low-flying drones now monitor landfill, while at ground level robots are getting their hands dirty sorting waste streams. Robotics will change the economics of the industry, the head of Spanish robotics company Sadako Technologies, recently assured Fast Company magazine
Evan Maehl CPA is the chief financial officer of Waste Management NZ, the country's biggest waste services company. He says that at its Redvale Energy Park it converts methane gas, a more potent greenhouse gas than carbon dioxide, from landfill into electricity to power some 12,000 homes in the Auckland area.
The company is also trialling electric cars and trucks. The stop-start work of waste trucks on household collections lends itself to using regenerative braking, which in turn recharges the vehicle's batteries, notes Maehl. He's also expecting major cost savings on fuel when potentially 800 diesel-fuelled trucks go electric.
The circular economy
As it is owned by China's state-run Beijing Capital Group, Waste Management NZ's lessons are also being learned in China, where environment services are a focus of the Chinese Government's 13th five-year plan. Recycling is reportedly China's second biggest industry.
"We talk a lot about the circular economy," says Maehl. This push to close the loop, which emphasises keeping resources in use for as long as possible and repurposing products and materials at the end of life, is gaining traction.
"In just one day's work, consider an electric truck picks up from 1200 households [where the bins are made from recycled plastic]; it saves on diesel bills, and takes roughly 15 tonnes of waste to landfill, which then produces methane that's used to produce electricity which will power the truck for the day, along with 250 houses. That's what's exciting about working for this industry," says Maehl.
The World Economic Forum estimates the circular economy will be worth US$1 trillion worldwide and US$26 billion in Australia by 2025.
Active proponents are car manufacturers such as Volvo, Renault and, more recently, Tesla, which now run buy-back schemes to extract the remaining value in used cars. Jeans maker Levi Strauss and the world's second biggest fast fashion retailer H&M both accept all kinds of second-hand clothing for recycling.
In Australia, carpet manufacturer Interface uses discarded fishing line from the Philippines for its Net Effect carpet range, and 752 Woolworths supermarkets (of a total 1161) donate organic waste in the form of unsold food as livestock feed to farmers, some of whom are also suppliers.
Environmental foundation Planet Ark has a 14-year-old printer cartridge recycling program which turns used cartridges into commodities (aluminium, steel and six different plastic types) and products including pens and park benches.
"When we set it up, we made a promise there would be zero waste to landfill, but the recycler we work with, Close the Loop, found it ended up with many hundreds of tonnes of leftover toner from cartridges," explains Brad Gray, Planet Ark's head of campaigns.
With roadmaker Downer EDI, Close the Loop developed a product that uses leftover residual toner to produce a longer-wearing asphalt that's now being rolled out as roads across Australia, and is being exported globally.
Closed-loop supply chains
Computing giants are also taking the circular path to address the contentious, rapidly growing field of e-waste. Through its closed-loop recycled plastics supply chain, Dell reports it has recycled more than 16 million kilograms of plastics into enclosures for new Dell products.
Google says that since 2007 it has repurposed enough outdated servers to avoid buying more than 300,000 new machines.
Such actions are taken voluntarily or under legislative pressure in different jurisdictions, with the rise of extended producer responsibility (EPR) principles and rules demanding action.
"Everyone whose hand touches a product should be party to ongoing product stewardship," argues Carmel Dollison, CEO of the Australia and New Zealand Recycling Platform (ANZRP), which runs the TechCollect recycling program, a free service for consumers.
ANZRP was launched in the wake of the 2011 National Product Stewardship legislation, which requires manufacturers and importers of televisions, computers, printers and peripherals (over a certain volume) to take responsibility for their recycling. In Australia, it has about 130 liable parties, says Dollison. Tough penalties mean there is a 99 per cent sign-up rate by tech companies, who pay a per kilogram rate on their imports.
Dollison is looking to expand the recycling platform's reach. While so far responsibilities have rested with users and manufacturers, retailers also must play a role, she says.
Some European countries, such as Germany, mandate recycling of "anything that requires a power source", from medical imaging equipment to children's toys and electric mowers. Maybe that's the approach the whole world needs.
Asia's e-waste conundrum
The heat is on the exponential issue of e-waste, and its recycling, in Asia. The United Nations University (UNU) in Bonn, Germany produced the first Global E-waste Monitor in 2016 covering East and South-East Asia. It revealed the highest per capita e-waste generators were Singapore, Taiwan and China.
China is estimated to have generated nearly six million tonnes of e-waste domestically in 2014, mainly due to the growth of its middle class, the proliferation of small products – particularly tablets and wearables – and faster obsolescence.
China also receives more than three million tonnes of e-waste from other countries. Despite attempts by the Chinese Government to ban e-waste imports, the lure of recyclable precious metals like gold, silver, palladium and copper from printed circuit boards and wires has kept informal e-waste recycling operations in business. With a population of 150,000, Guiyu in Guangdong Province is the world's biggest e-waste recycling site.
A sign of China's rising environmental consciousness came in January, when its State Council announced extended producer responsibility (EPR) action would unfold over the next eight years. This was hot on the heels of India's Ministry of Environment, Forest and Climate Change's 2016 announcement that EPRs would be phased in. India is the world's fifth largest producer of e-waste, according to an Assocham-KPMG study.
Rising mobile phone use is sounding alarms, too. In December 2016, Statistica reported China had 1.3 billion mobile phone users, while India just topped one billion.
Every year, India and China are adding 300 to 400 million new mobile phone subscribers who use their handsets for an average of two years, according to UNU research.
While much has been reported on high adoption rates and low levels of mobile phone recycling, innovation is emerging from global tech leaders.
Apple has unveiled Liam, a 29-armed iPhone recycling robot prototype, which is being developed to improve efficiencies and also overcome the health and safety issues that arise when humans do the dismantling.
In the interim, Japan has a novel use for discarded phones, with mobile phone retailers operating as collection points for old phones and small appliances as the country looks to find two tonnes of gold, silver and bronze.
The end product? About 5000 medals to be awarded to Olympians and Paralympians at the 2020 Tokyo Games. Olympic host cities typically buy the metals from mining firms but Japan lacks its own mineral resources, and is keen to take the theme of a sustainable future a step further with recycling.