At a glance
The rising number of people using gig economy platforms – and the economy's growing dependence on gig workers – has sparked debate about the protection of workers' rights.
Experts believe reforms should include extending equality law to include gig workers, regulating work contracts, removing barriers preventing gig workers from forming unions, and encouraging companies to eliminate discrimination in their data, algorithms and operations.
By Megan Breen
The economic havoc brought about by the COVID-19 pandemic has seen permanent staff numbers shrink, with the corresponding rise in unemployment and increase in the number of individuals seeking contract work. Additionally, more people than ever are looking for supplementary income sources through a multitude of gig platforms, such as Upwork and FlexJobs.
The economy's growing dependency on gig workers raises many questions about the future of employment, and has reignited the debate about the protection of workers' rights as the job market reacts to the economic crisis.
The term "gig economy" first appeared in 2009 in response to the popularity of white-collar workers pursuing consultancies and part-time work while they transacted in a digital marketplace. Its emergence raised questions about the future of certain industries, including professional services firms, with expectations that work would be outsourced on digital platforms, removing the need for permanent staff.
This has occurred to some extent, and there are many examples of gig workers being used across the corporate world. However, the real growth in the gig economy has been in the unskilled marketplace, with an explosion of "disruptor" apps, such as Uber and Airtasker, connecting consumers with providers for food delivery, household tasks and simple errands, for example.
New research commissioned by the Victorian Government and undertaken by the Queensland University of Technology, the University of Adelaide and the University of Technology Sydney reveals the gig economy to be much bigger than previously thought, with up to 7 per cent of working-age Australians – just under one million people – doing "platform work" in the past 12 months, and 13 per cent having done on-demand work at some time.
The researchers surveyed 14,000 people, and the results show the most common digital platform workers include younger people (aged 18 to 34), men, students, temporary residents, people with a disability and those who do not speak English at home.
Research from Gartner shows that organisations will also continue to expand their use of contingent workers to maintain flexibility in post-pandemic workforce management. Gartner reports that 32 per cent of organisations are replacing full-time employees with contingent workers for increased flexibility and as a cost-saving measure since COVID-19.
Platform workers' rights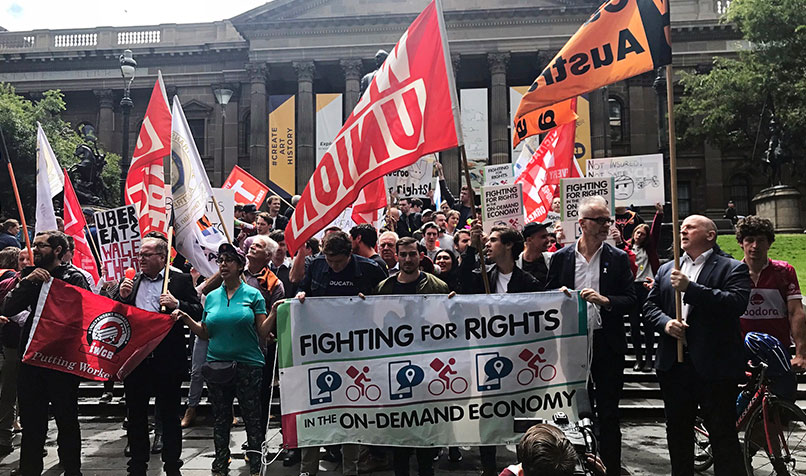 The global growth for gig-related work has reignited an ongoing discussion about workers' rights, leading to an announcement by the Victorian Government in June 2020 that it will propose changes to workplace laws to ensure a reasonable standard of rights, conditions and wages.
Alysia Blackham, associate professor at the University of Melbourne's Law School, says workers in the gig economy have few rights, because many employee entitlements depend on an employment relationship. Now is the time to look at ways to better protect people, as the need for supplementary income increases, she says.
"One of the things that we've really seen with COVID-19 is an increase in a loss of work hours and a loss of attachment to the workforce. If people are experiencing a reduction in their hours, if they're increasingly under-employed and not able to get enough work in their regular job, that's where they might turn to the gig economy to try to make ends meet.
"The real challenge with the gig economy is that the people who are doing these tasks are often classed as independent contractors. In this case, they're not employed by the platforms in any way, so they have no right to paid leave, no right to unfair dismissal. All of those rights and protections that regular employees have don't apply to independent contractors," Blackham says.
Another issue is identifying the employer. Uncertainty exists over whether, legally, the employer is the platform, or the customer who uses the platform to request and pay for a service. Blackham recommends four reforms to laws to help protect gig economy workers. These are:
extend equality law to specifically include gig workers, where it doesn't already do so
regulate work contracts, rather than specific relationships between employers and employees
remove barriers preventing gig workers from forming unions or engaging in collective bargaining, where possible
encourage – or legally require – companies to find and remove any discrimination in their data, algorithms and operations
"The easiest and simplest way to give protection to gig economy workers would be to say that they are employees, with all of the rights and protections that that entails.
However, that would be a fundamental challenge to the gig economy model as it currently stands. If you actually force platforms to internalise the real costs of doing business, if you made them pay the minimum wage, for example, they may well not be viable," Blackham says.
Tim Fung, CEO and founder of Sydney-based gig platform Airtasker, says it is hard to trade off the balance between the idea of flexibility and structure, and has spoken with many unions and government bodies about the best way forward to ensure fair working conditions.
"We are in violent agreement about wanting people to get paid fairly, and we want people to have a safe working environment, and we want people to have the biggest possible opportunity to grow their careers."
However, one of the things that is difficult to articulate is "that it's very easy to describe the benefits of structure, but it's very difficult to describe the cost of that structure in terms of flexibility", Fung says.
One way of ensuring protections as a contingent worker is by using an agency rather than relying on a digital platform for work, argues Angela Cameron CPA from Consult Recruitment in New Zealand.
"Our employment legislation is archaic and doesn't anticipate 'non-traditional' workers. To change this is a huge challenge for governments, and one that has been 'too hard' for some time. Both Australian and New Zealand governments are moving towards anticipating more contingent or gig working, but there is much work to be done still," Cameron says.
"One of the benefits for individuals of working through a recruitment agency is that they are much better protected, their rights and conditions are protected, and they also have an advocate when an assignment isn't working out."
Searching for an alternative income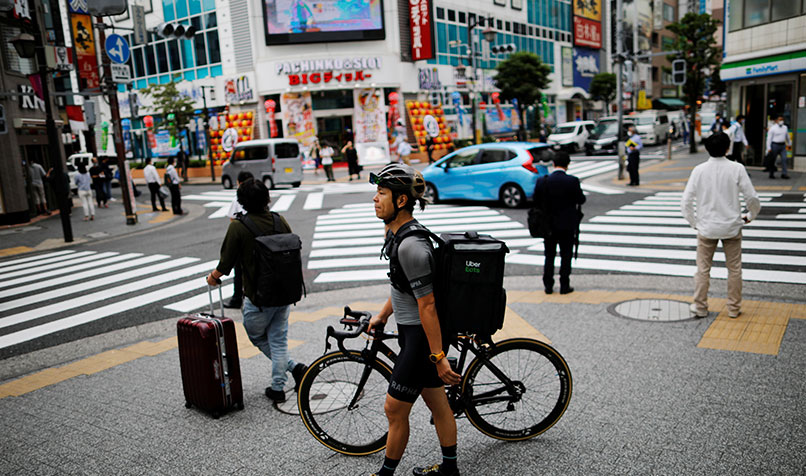 When COVID-19 first took hold, the number of people posting jobs on Airtasker took a nosedive.
Fung says tasks dropped by between 20 per cent and 30 per cent week on week before people began to adapt to the lockdown measures and find new ways to provide their services.
"There was this really powerful malleability of the community as it adapted to COVID-19. Our Taskers began to adapt their businesses – for example, one person, who specialised in baby seat installations and wardrobe organisation, started doing that remotely and began teaching people how to do things online, so they were doing the work themselves," Fung says.
Since the initial drop, Fung says more people are registering with the app, and he expects this trend to continue.
"The flexibility and control of income are very attractive to people who may have been traditionally in full-time employment. The flexible labour economy is able to capture people when they come out of full-time work, and is also able to help people ease back into full-time work over time, if they desire," Fung says.
"We've definitely seen the growth come back into the market, and we are certainly anticipating that, as unemployment grows, there will be a surge in people who are really incentivised to create their own income and take control of their income. We've started to see that come through in terms of registrations on the supply side."
Cameron says she expects the gig market to continue to grow post-pandemic in some areas and shrink in others as people face financial restrictions and reduce spending.
"Contingent working and gig working will continue to increase in popularity, because it allows individuals and organisations the flexibility to scale and work in ways that suit both parties. It's the biggest workforce evolution in some time and a completely valid new way of working," Cameron says.
"We are already experiencing increased demand for immediately available, experienced people to undertake contract and temporary work. I would imagine that the 'pure' gig economy will thrive in some areas due to the same effect, but it will also be more difficult, particularly in the individually focused gigs [for example, Uber Eats] as people tighten their belts during uncertainty."
Growth via flexibility
The growth of the gig economy is also apparent in South-East Asia. Bryan Chung FCPA, managing director at Cadence Venture Capital in Malaysia, says expansion of the market in the country is well underway, primarily due to the flexibility it offers.
Chung highlights the Malaysian Government's strategy for providing a social safety net for gig workers: a regulatory framework and a US$ 17.5 million (A$ 24 million) budget to encourage upskilling and voluntary contributions to pension schemes.
"Rapid improvements in technology infrastructure and different ways of marketing have made it possible to operate a business needing to come under an umbrella of an organisation or brand," elaborates Chung.
Chung also acknowledges the problems that could arise, such as undisclosed income and less tax being paid. "Gig work as a percentage of full-time employment is still relatively small, and the impact is not substantial yet. As long as gig work can generate productivity and provide a platform to earn an income while upskilling, with the proper tax policies in place, then the overall effect to the economy should be positive," he says.
Tim Fung agrees that, while the percentage of people engaged in gig work is growing, gig work is not a replacement for traditional full-time employment. He notes that 70 per cent of people who earn money on Airtasker do fewer than five jobs per month.
"I definitely think that there will continue to be a role for permanent full-time work. In terms of the flexibility economy, I do think we will see growth continue, because if you ask young workers of today, more than anything, people want flexibility to be able to go and try new things, to be able to travel, to be able to work doing what they love doing."