At a glance
The World Economic Forum estimates that agriculture accounts for up to 12 per cent of greenhouse gas emissions. Meat, poultry and dairy farming contribute almost threequarters of those emissions.
The stated goal of many manufacturers of meat alternatives is helping consumers offset some of the environmental impact by switching to plant-based "meat".
Industry players believe the future of mock-meat will hinge on the taste, affordability and availability of products, as well as consumer perceptions of health and sustainability.
Having announced in August this year that 9000 American grocery stores now stock its plant-based burgers – up from just 150 at the start of 2020 – you'd think the management team at Impossible Foods would be content.
Yet Nick Halla, senior vice-president international at the Californian company, says the mock-meat sector still suffers from what he calls "plant-based anxiety", or the perception that meat alternatives just don't taste very good. This is partly based on the consumer perception that early products did not replicate the characteristics of real meat.
"These plant-based products may have satisfied vegans and vegetarians, but they were not satisfying to meat-loving consumers," Halla says.
Courtesy of the popular Impossible Burger, made from soy and potato proteins, Halla and his team are changing that notion.
The company has also released plant-based sausage and pork imitations, while industry competitors such as Beyond Meat, Quorn, v2food and Fable Food are also contributing to the rapid rise of meat alternatives, which bring a mix of agriculture and science to the table.
"Tasting is believing," Halla says. "More than 90 per cent of our consumers are self-identified meat eaters. This means that not only are we satisfying our target audience, but once they try it, they're very likely to come back."
Healthy appetite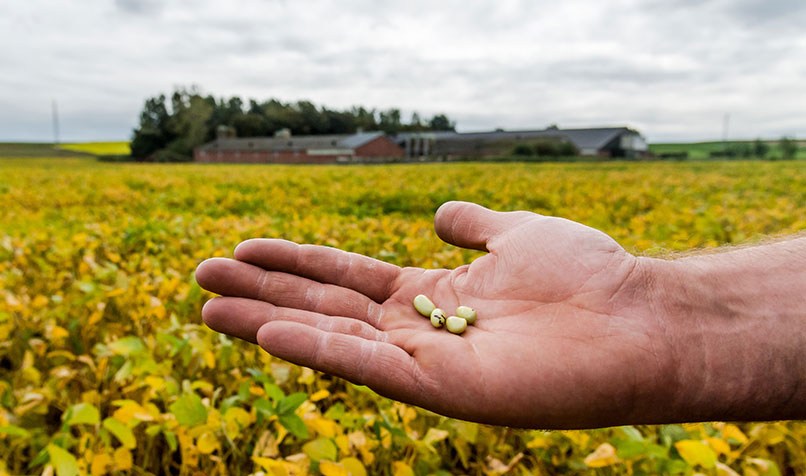 The global plant-based "meat" market is projected to grow to US$27.9 billion (A$38.1 billion) by 2025, up from US$12.1 billion (A$16.5 billion) in 2019, as consumers embrace a product that promotes itself as delivering healthier food that is better for the environment and free from animal welfare concerns.
Fast-food giants such as Burger King (Hungry Jack's in Australia) have found a ready market for mock-meat burgers, while KFC is expanding the US rollout of a plant-based "chicken" product. Meanwhile, supermarkets, cafes and restaurants are stocking their shelves with more meat alternatives than ever before.
According to the Food and Agriculture Organization of the United Nations, global meat production totals about 340 million tonnes a year, while the World Economic Forum reports that agriculture is responsible for up to 12 per cent of greenhouse gas emissions, with meat, poultry and dairy farming producing almost three-quarters of those emissions.
Helping consumers offset some of that impact by swapping to plant-based "meat" is the key motivation for Nick Hazell, founder and CEO of v2food. The Australian business has developed a meat alternative from dried soybeans, drawing from the CSIRO (Commonwealth Scientific and Industrial Research Organisation) and investment from Hungry Jack's franchise owner Jack Cowin.
The business has sold millions of plant-based patties under the Rebel Whopper brand through Hungry Jack's in Australia and Burger King in New Zealand.
The goal for v2food is to convince traditional meat lovers to embrace plant-based alternatives. In this regard, Hazell says, the fast-food sector is crucial.
"For us, it's about getting people who love meat to look for an alternative that tastes as good, is just as cheap as meat, and is available in the same places you buy meat.
"Anything else means that we're going to be in a narrow niche, and we don't want to be niche – we want to be mainstream."
Made in Australia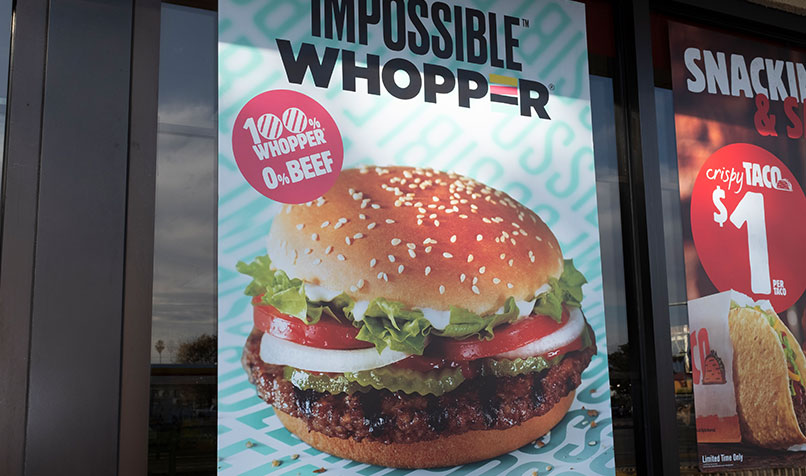 According to Deloitte Access Economics, the Australian plant-based protein market could generate A$3 billion in retail sales by 2030 and employ 6000 people.
Joining v2food in the battle for the Australian consumer is Fable Food, a Queensland-based manufacturer of mushroom-based products that, according to the company, taste like slow-cooked meats and can be used in curries, braises and stews.
Fable Food products are available in more than 600 Woolworths stores across Australia, and also feature on the menus of celebrity chef Heston Blumenthal's restaurants.
"Heston tried it, loved it and started using it in his restaurants, which is a dream start for a food business," says Michael Fox, CEO of Fable Foods.
A vegetarian himself, Fox is counting on the emergence of the "flexitarian" eater – someone who likes meat but who wants to reduce their intake for health or environmental reasons. The improvement in plant-based options is making the switch easier.
"Five years ago, the choices among the meat alternatives were pretty dire," Fox concedes.
He believes Fable Food's decision to replicate slow-cooked meats will give it a point of difference from the burger patty options from the likes of Impossible Foods, Beyond Meat and v2food.
Hazell says plant-based products can also complement animal products as Australia seeks to ramp up its meat exports. "We can export five times more meat if we also make it from plants," he says. "It's about supplying the world with sustainable meat, and if you frame it like that, you realise that Australia has a really important part to play."
Barriers to clear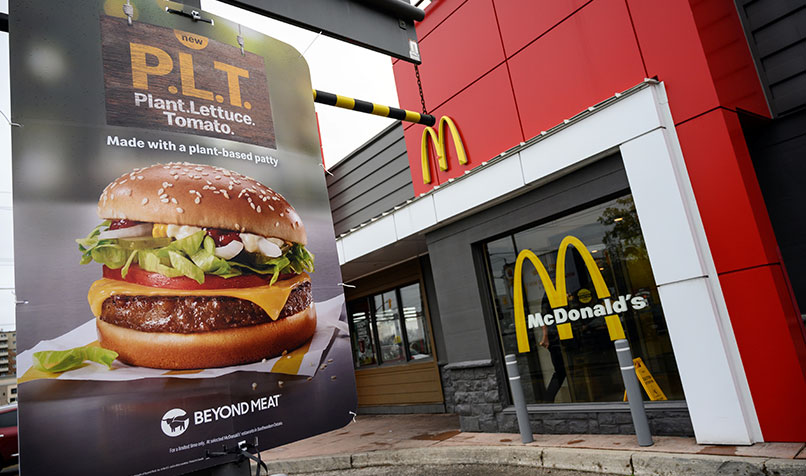 Los Angeles-based Beyond Meat has been a darling of the stock market since going public in May 2019, and the company claims its products are available in about 75 countries.
Its flagship burger – made from peas, mung beans, rice and beets, which provide a "meaty" red hue – is high in protein, low in fat and free from cholesterol. These qualities, along with its meat-like taste and texture, have contributed to its growing popularity with consumers.
The COVID-19 pandemic, however, has disrupted alternative meat sales channels – food-service providers such as restaurants, cafes and caterers.
In late June, Barclays double-downgraded Beyond Meat because of concerns about market fallout from the pandemic.
Undeterred, Beyond Meat's chief marketing officer Stuart Kronauge points to generally strong demand for its products in US retail outlets earlier this year, with some retailers doubling their typical volumes.
The company's second-quarter 2020 results saw net revenues rise to a record US$113.3 million (A$155 million), up 69 per cent year-on-year.
Kronauge says the pricing of products represents an ongoing challenge for Beyond Meat and other mock-meat manufacturers. One of the company's core aims is to bring the price of its products below that of animal protein.
"The reason we're not there today is because of scale," she says. "As we grow and achieve economies of scale, we'll look to drop our pricing as quickly as possible. We have set an internal goal to have at least one product in one meaningful category that achieves price parity with its animal protein equivalent by 2024."
Kronauge says the aim is to "win on taste, win on nutrition and, ultimately, win on price".
Product positioning within supermarkets will be another key factor if plant-based "meat" sales are to boom. Australian supermarkets have agreed to place mock-meat products in the chilled meat section, whereas, in the past, veggie burgers and other plant-based "meats" have been consigned to the freezer section.
Fox is pleased that Fable Food products are being sold alongside traditional meats. "That's the right place for them. All of these decisions should be made on what makes the most sense for the consumer."
After a considerable battle, Beyond Meat became the first plant-based "meat" to be sold in the meat section in American supermarkets. Kronauge says this is an important step in "democratising" meat alternatives.
As the mock-meat industry matures, Hazell says v2food will stake its future on three key elements – taste, affordability and availability – as consumers weigh up the benefits for their health and the environment.
"This is the right time, and there's an opportunity for consumers and us to make a difference."
Asia the target
For many of the new breed of plant-based "meat" producers, the vast Chinese market presents the holy grail.
Albert Tseng is co-founder of Dao Foods, an investment firm that helps entrepreneurs develop alternative protein products in China.
He says that, while meat alternatives have been manufactured in China for more than 30 years, those products have primarily been aimed at Buddhist vegetarian consumers, who make up about 18 per cent of the population.
Now, the growth of the meat imitation market will be centred on the 400 million Chinese millennials, who are more willing than older consumers to try new foods and culinary concepts.
"History tells us that, as incomes rise in countries, so does meat and animal protein consumption," Tseng says. "This is perhaps most true for China, the world's most populous country with steadily rising incomes."
Dao Foods is betting on some of that rising income going towards meat alternatives, investing in Starfield Food and Science Technology, a Shenzhen-based food technology company, and developing an incubator system to help foster promising alternative protein companies.
"The current food system in China is unsustainable, particularly given projected demand for protein in the coming decades," Tseng says.
"Industrial animal agriculture is a very inefficient protein source, and we believe fortunes will be made by those who create more efficient and tasty alternatives to present to consumers."
Perception versus reality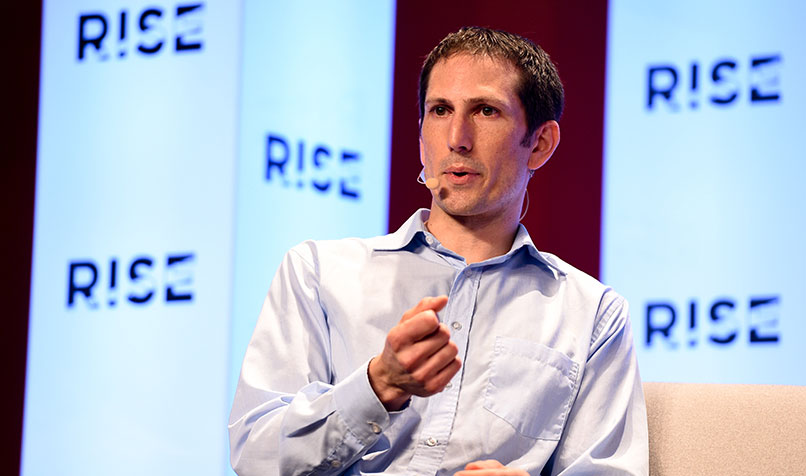 Plant-based "meat" is healthier for the people and the planet - at least that's what many consumers believe.
Impossible Foods' Nick Halla says he has a solution to curbing the environmental effects of animal farming – a major contributor to global warming, both from direct emissions and the deforestation that occurs as rangeland and feed crops expand.
"We need a new system that is scalable and sustainable – and capable of producing delicious, nutritious and affordable meats that people love," he says.
Impossible Foods claims its burgers require 87 per cent less water and 96 per cent less land, and produce 89 per cent fewer greenhouse gas emissions than a beef version.
Rival Beyond Meat contends that its burger production needs 99 per cent less water and 93 per cent less land, while producing 90 per cent fewer greenhouse emissions and 46 per cent less energy than a beef burger.
A recent report published in Nature states that changing one's diet to incorporate more plant-based meats could result in a 52 per cent reduction in the projected increase of greenhouse gas emissions.
However, some critics of the theory contend that the low environmental impact claims made by mock-meat makers do not account for the impact from plant crops on soil carbon and potential deforestation.
Impossible Foods and Beyond Meat have both published life-cycle-assessments (LCA), which measure the environmental aspects of products across their supply chains.
While the land and water use statistics quoted are impressive in comparison with the resource consumption notched up by traditional meat production, some experts argue that, when taken out of context, LCA results can be misleading.
In an article published in The Conversation, CSIRO's Dr Maartje Sevenster, research scientist, climate smart agriculture, and Brad Ridoutt, principal research scientist, point out that, "looking at the underlying reports for Beyond Burger and Impossible Burger it becomes clear that statements such as 'less water' and 'less land' mean different things in practice."
Sevenster and Ridoutt explain that by comparing only the environmental aspects that are most important for meat products, "the results may look extra positive for the vegan alternatives, as other aspects might have shown a less favourable result. The results as presented may be true, but they are not the whole truth."
When it comes to health, as an option with lower cholesterol and less saturated fat, meat alternatives appear to be healthier than meat.
However, the burgers manufactured by Impossible Foods and Beyond Meat contain between 18 and 21 ingredients, including purified pea protein, coconut and canola oils, rice protein, potato starch and beetroot juice extract, and an iron-containing compound from soy – called heme – to enhance the meaty flavour.
Both plant-based burgers are also very high in sodium, containing about 16 per cent of the recommended daily intake.
According to the US Department of Agriculture, an uncooked four-ounce beef burger patty contains about 75mg of sodium. A Beyond Burger contains 350mg of sodium, according to its product details, and an Impossible Burger contains 370mg of sodium.
As with any food, it is up to consumers to make informed choices by reading mock-meat labels carefully.