At a glance
The Christchurch earthquake of 2011 killed 185 people, destroyed 10,000 buildings, and wiped out core infrastructure including many familiar landmarks.
A big part of the recovery effort involved innovative ideas and solutions to immediate problems.
Corporate accountants also played an important role in the aftermath, helping to implement business contingency plans, and providing advice to clients affected by the disaster.
It's been nine years since the New Zealand city of Christchurch was brought to its knees by a devastating earthquake.
In a country used to earthquakes, this one was different. At about lunchtime on 22 February 2011, life changed for everyone in the city. This earthquake killed 185 people, demolished 10,000 buildings and wiped out the city's core infrastructure, including roads, bridges, water, sewerage, electricity and phone lines. Beautiful Christchurch became a city in ruins. Its entire central business district (CBD) would be closed for two years.
While the road to recovery has been long, and there is still much to be done, Christchurch has risen from the ruins. It is now both New Zealand's oldest city, as well as its newest.
"The city has changed completely," says Adam Hollingworth CPA, who is an academic at the Ara Institute of Canterbury. "All the familiar landmarks are gone."
A city in limbo
Hollingworth says innovative thinkers kept the city afloat in its darkest days.
Retailers brought in shipping containers to sell from, and empty parking lots were transformed into entertainment spaces – such as a washing-machine powered dance space, a giant outdoor arcade game and a mini golf course made from salvaged materials – aimed at reinvigorating the city's heart.
Prue McStay CPA had just moved her private accounting practice Astute Mode into a building in Christchurch's CBD when the 6.3 magnitude earthquake hit. Th e facade of the building next door smashed through the roof and onto her desk. She was using a different desk that day and was not injured.
"We'd had a pretty sizeable earthquake the September before, and aftershocks, but the violence of this earthquake was particularly destructive and unprecedented," McStay says. "I think there are other cities in New Zealand that are still not prepared for the effect a massive earthquake would have on them."
McStay's building only sustained superficial damage, but for six months the business was in limbo, still contracted to a lease and unable to secure a new tenancy agreement elsewhere. Smaller businesses could work from directors' homes, but larger ones had to find somewhere to house hundreds of employees.
The tertiary provider where Hollingworth teaches management accounting had 10,000 students to initially evacuate, and then relocate.
After the earthquake
When a client invests trust in their accountant, they can often come to share both their business and personal vulnerabilities.
With so many insurance claims lodged in the aftermath of the quake, processing delays caused a lot of angst and anger.
"There's a lot that businesses have to be able to sustain in the face of a disaster," McStay says. Possibly one of the hardest things to prepare for can be the emotional impact of the trauma.
"It's ongoing and it has long-lasting effects, but everybody reacts differently, so for a lot of business owners in Christchurch, that has been a big challenge," McStay says.
"You're torn between clients who need you, team members who need you, children who need you, a partner who needs you, and you have to try to keep going, and that can be really hard."
One of McStay's clients took 18 months to reach a settlement with their insurer. Although relatively fast compared to many, it is money that wasn't available when they chose to reopen their doors to keep staff employed, retain their customers and earn a living.
McStay says there are thousands of stories from businesses that floundered in the aftermath – some moved repeatedly as each new stage of roadworks blocked the foot traffic they relied on. Hospitality businesses struggled to find a functioning kitchen, and professional services carried on without access to records, such as wills, that were either permanently lost or stuck on servers within the city's no-go zone.
For corporate accountants, time was diverted to implementing business contingency plans and providing comparative financials up to the day of the earthquake and post-earthquake to help in the processing of their insurance claims.
However, for businesses involved with the rebuild, the disaster brought about opportunities for growth.
Responding to a crisis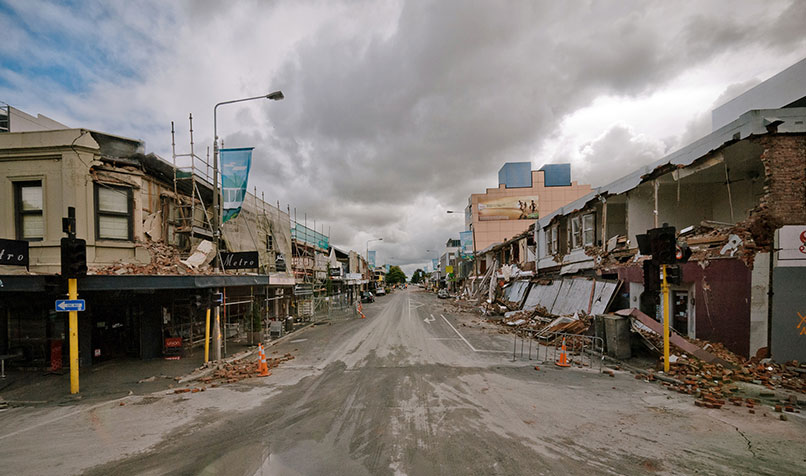 Arlee Folkers FCPA is the group CFO of Christchurch based civil earthworks company Isaac Construction, which was among the first called upon in the city's time of crisis.
One of Isaac Construction's first jobs was to clear up the liquefaction – a fine and heavy sediment forced up from the ground, covering everything in its path and making structures unstable. Priority was also given to providing road access to paramedics and emergency services, and then to restoring vital infrastructure. It was also able to supply base products and raw material used in the manufacture of concrete, and provide a cleanfill site for debris.
Before the earthquake, construction companies, including Isaac Construction, had been struggling from the effects of the global financial crisis (GFC). Staff were no longer getting overtime, and companies weren't replacing people who left.
"We'd been able to hold onto staff during the GFC, which meant we had a really experienced workforce, so we were poised to take advantage," says Folkers, who had only been with the company for four months when the earthquake struck.
Folkers says the earthquake's aftermath presented an opportunity to strengthen the company's balance sheet.
"We went from a position where cash was really tight to a totally different position, and that's nice. You have more time to do clever stuff, rather than managing stuff , and now we're looking at expanding and spreading geographically. If you are in different regions, there are different opportunities, and you spread your risk."
Isaac Construction's workforce has more than doubled since 2011.
Taking new shape
For a long time, Christchurch felt more like a construction site than a city, but the pendulum has swung the other way, and Folkers, McStay and Hollingworth say a sense of bustle and buoyancy has returned to the air.
While some major projects, including a conference centre and stadium, are still in the pipeline, large accounting firms have followed the banks' return to the CBD, and the government has directed all its departments be based in the city centre. Major retailers have moved in, and a dynamic covered food market has opened up along the river, bringing with it contemporary bars and boutique shops. There's now a critical mass of people to stimulate growth.
McStay believes Christchurch is in the best shape it's been in for a long time. It now just needs the people of Christchurch to actively support those who rebuilt it by embracing the new city.
"The council and the government have done their part, the people have to do it now," she says.
Accounting in a crisis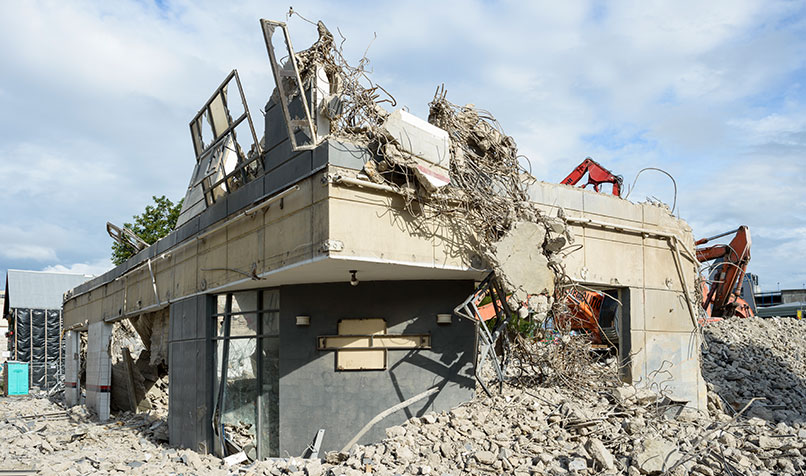 A natural disaster, such as the earthquake that struck Christchurch or the devastating bushfires that have ravaged several parts of Australia, is just one form of crisis that can strike a business.
Technology failures, operational issues, reputation damage and financial upheaval are among the many problems that have the potential to cripple a company.
In 2019, PwC released its Global Crisis Survey report on how to gain competitive advantage in a crisis.
It found there is long-term value in having a well-prepared disaster management plan, and predicted there will come a time when leaders include crisis preparedness in their KPIs.
Academic Adam Hollingworth CPA teaches management accounting at New Zealand's Ara Institute of Canterbury. He says a key part of a management accountant's role is advice and assessing risk – ensuring that the business is prepared to cope with any eventuality.
In any crisis, your first priority is the wellbeing of your staff . However, once you're past that point, Hollingworth says the focus is to get your business back in operation as soon as possible.
"People may have systems in place, but have never tested if they work," he says. "
A piece of paper is worth nothing. Raising awareness of how often things happen and how they will respond is something that needs to be more than dialogue."
Hollingworth recommends making readiness discussions a regular item at board meetings and testing, and re-testing, your disaster plan. Who will lead you through the crisis? Is your back-up in the cloud or on-site? How long could you go on if the internet was down? How readily can you access staff and client contact details? Do you have someone capable to deal with all the required internal and external communication?
"The experience from the earthquake in Christchurch is people wanted some normality quite quickly, so getting back into a routine of doing their business as usual was quite important," Hollingworth says.
"Sometimes that is within your control and sometimes it's not, but if you haven't thought about it before the crisis, then it becomes harder because you won't have Plan B to try if Plan A is not working. Being agile is quite important in times of change."
He says accountants may be able to identify available government subsidies, provide tax or payroll advice, facilitate discussions with banks and insurers, or find out what leave people are entitled to.
In a crisis, cash flow can be a deal breaker. Prue McStay CPA, director of private accountancy practice Astute Mode, recommends three to six months worth of accessible cash reserves at all times.
"Having the cash in place helps you to keep hold of your staff, and that's key," McStay says.
"The labour market is tight anyway in that scenario, and you can get up and running a lot faster if you can hang onto your team that already knows, and cares for, your clients."