Electronic consumer vouchers are the sweetener for residents in a 2021-22 Hong Kong Budget that strikes a delicate balance between rebooting the economy and managing uncertainties from COVID-19.
In unveiling the budget on February 24, Financial Secretary Paul Chan pledged to focus on "stabilising the economy and relieving people's burden".
To that end, he announced "counter-cyclical" fiscal support of more than HK$120 billion to boost an economy that is emerging from a two-year recession.
Striking a positive tone, Chan forecast that the Hong Kong economy will grow from 3.5 per cent to 5.5 per cent in 2021, compared with a 6.1 per cent contraction last year. He offered a note of caution, however, stating that the outcome will hinge on managing business and social fallout from the pandemic while implementing a successful vaccination rollout for which it has set aside more than HK$8.4 billion.
"Our target is to have the majority of the population vaccinated for free in 2021," Chan said.
Pandemic takes a monetary toll
The 2020-21 deficit has been revised to HK$257.6 billion – lower than Chan's previous estimate of HK$300 billion, but still a record after achieving a surplus for 15 years.
He warns that Hong Kong will record a deficit for several more years, courtesy of rising recurring expenses and spending needed to combat the pandemic and support the economy.
Regardless, the government has committed to preserving spending in key areas such as education, social welfare, and healthcare to safeguard people's livelihood and maintain public confidence".
"In 2021-22, the recurrent funding for these three policy areas amounts to HK$302.3 billion in total, accounting for 58 per cent of the government's total estimated recurrent expenditure," Chan said.
The 2020-21 revised estimates on government revenue amount to HK$543.5 billion, lower than the original estimate by 5.1 per cent, or HK$29 billion. This is mainly due to lower than expected revenue from land premiums.
Government expenditure is tipped to reach HK$820.4 billion, or HK$89.3 billion higher than the original estimate.
Related resource: CPA Australia's Hong Kong Budget 2021 infographic
Vouchers for permanent residents
A highlight of the budget – and one of the measures designed to help restart the economy – are HK$5000 electronic consumer vouchers that will be handed out to every eligible Hong Kong permanent resident and new immigrants aged 18 or above.
This measure, which involves a financial commitment of about HK$36 billion, is expected to benefit around 7.2 million people.
Janssen Chan FCPA, divisional president of CPA Australia – Greater China 2021, has backed the plan.
"This will help to stimulate local consumption," Chan said. "We also expect it will encourage companies to increase the use of electronic payment technology.
"CPA Australia suggests that the government consider providing an additional HK$5000 in these vouchers to low-income households and people who have lost their jobs because of the fourth wave of the pandemic."
The voucher announcement comes after the expiry of relief measures launched last year, whereby public housing tenants received one-month rental waivers. In line with budget restraints, the financial secretary has resisted calls to continue the waivers.
As Hong Kong seeks to increase business confidence, it is focused on the Greater Bay Area (GBA) project, an initiative to turn Hong Kong, Macau, and nine Guangdong cities into an economic powerhouse. Its current emphasis is on connection and collaboration in the capital markets, including bonds.
The financial secretary believes the project, along with the Chinese Government's Belt and Road Initiative (known in Chinese and formerly in English as One Belt One Road, or OBOR), will be major contributors to Hong Kong's economy, which is forecast to grow an average of 3.3 per cent a year in real terms from 2022 to 2025.
"Leveraging our proximity, Hong Kong can make use of the GBA development as an entry point, participating actively in the development of our country's domestic circulation for capturing enormous business opportunities."
In response to the unemployment rate hitting 7 per cent, Chan says the government will continue to invest in infrastructure. Annual capital works expenditure will exceed HK$100 billion in the coming years. Annual total construction output will increase to about HK$300 billion, creating more than 300,000 employment opportunities.
CPA Australia says the budget contains many initiatives that will create new jobs that should drive down the unemployment rate, such as funding for the creation of about 30,000 temporary jobs.
"At the same time, we recommend optimising the 'Re-industrialisation Funding Scheme' and increasing funding to provide more resources to help companies re-industrialise. For example, tax incentives could be provided to strategic industries such as pharmaceuticals, healthcare, biomedicine, and artificial intelligence," Chan said.
"We also recommend allocating additional funding to support industries such as food and beverages to assist them in digitalising and adopting innovative technology. These suggestions could lead to more jobs and diversifying the Hong Kong economy."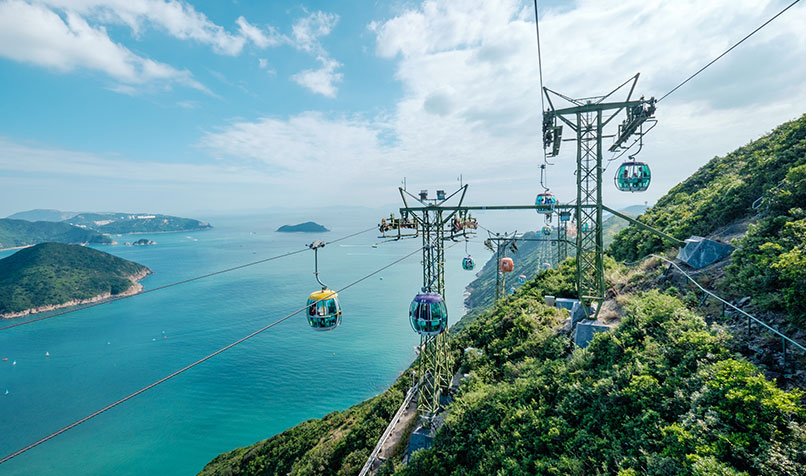 A centrepiece of the 2021-22 Budget is the push to create a green ecosystem that aims to promote sustainable development and improve outcomes for communities and the environment.
Some HK$500 million has been allocated to carry out enhancement works on facilities in country parks, as well as providing recreational elements such as additional lookout points, treetop adventures, and "glamping" sites.
"The new facilities will adopt low carbon and green design that integrates with its natural surroundings," Chan said. "The needs of all age groups and people with or without physical disabilities will be catered for."
To achieve carbon neutrality before 2050, Hong Kong will also continue to promote the development of green and sustainable finance.
Chan wants Hong Kong to build on the city's status as a global financial centre to become a green finance trade hub. To that end, the government plans to expand the scale of its green bond scheme, doubling the borrowing ceiling from HK$100 billion to HK$200 billion.
"This will also give us more room for piloting the issuance of green bonds that involves more types of currencies, project types, and issuance channels, thereby further enriching the green finance ecosystem in Hong Kong," Chan maintains.
Relief measures for business
The 2021-22 Budget details a package of business relief measures totalling about HK$9.5 billion, such as enhancements in the system of government-guaranteed loans for small and medium-sized enterprises (SMEs).
The application period initially intended to end in April 2021, will be extended to the end of this year.
Under the scheme, the borrowing limit for businesses will rise from HK$5 million to HK$6 million and the maximum repayment period rises from five to eight years.
"We are delighted that the government has adopted CPA Australia's proposal to extend the 100 per cent SME Loan Guarantee Scheme to the end of this year and to increase the loan limit," Chan said.
"This measure may help SMEs to overcome the challenge of accessing finance in tough times."
Other business-friendly initiatives include offering rates concessions for non-domestic properties for four quarters of 2021-22, subject to a ceiling of HK$5000 per quarter in the first two quarters and a ceiling of HK$2000 per quarter in the remaining two quarters, for each rateable property.
The government will also waive business registration fees for 2021-22 in a move that should help 1.5 million business operators.
As it seeks new revenue sources, the Government has modestly lifted the stamp duty on stock trading to 0.13 per cent from the existing 0.1 per cent. CPA Australia's Chan believes the overall impact on the capital market and investors' intentions does not appear to be significant.
"With an expected increase in Chinese companies seeking secondary listings in Hong Kong this year, this slight increase should provide a boost to government revenue," he said.
While the pandemic's impact has been widely felt, Chan insists that COVID-19 has created new business opportunities and that Hong Kong must maximise the impact of information technology solutions and ensure there is a sufficient pool of talented employees in the sector. He notes that the city's Distance Business Programme has been providing support for such initiatives.
"The program has received an overwhelming response since its launch in mid-2020, and total funding of nearly HK$800 million has been granted. We have subsequently allocated additional funding of HK$1 billion for the continuation of the program and further enhancement."
Surviving setbacks
In his concluding remarks, the financial secretary reflected on the series of challenges Hong Kong has suffered in recent years, including social unrest and the COVID pandemic.
"Despite the pressure we now face, looking back, we have walked all the way through thick and thin," he said. "However harsh life may have been, Hong Kong remains the home that we treasure."