"Our offices are designed to be the best place for people to work effectively," says Duncan Young, Lendlease's head of health and wellbeing.
"Plants are clustered in focus areas to absorb noise, and low VOC finishes and furnishings are used throughout. We also have higher floor-to-ceiling ratios for greater light penetration, and all staff sit within eight metres of windows." There are also stand-up desks at 40 per cent of work stations.
The result? More than 73 per cent of staff feel the new workplace enables them to work productively, says Young. No surprise, then, that Lendlease's headquarters has been ranked in the top 6 per cent globally for workplace design, functionality and effectiveness by the Leesman Index, which gives a functionality score for corporate workplaces across 67 countries.
At the other end of the index are old office blocks that suffer from poor air quality and the build-up of VOCs. According to Australia's Department of Environment and Energy, drowsiness, headaches and even respiratory disease can be the result.
However, at the Barangaroo development, all 80 tenants, from sushi-train restaurants to banks and bakeries, have achieved Green Star ratings. Green Stars are awarded by the Green Building Council of Australia (GBCA) for good air quality, lighting and thermal comfort, and avoiding use of harmful chemicals and materials.
Achieving Green Stars may require a bigger upfront investment, but the pay-off is increased productivity and staff retention. John Arthur, chief operating officer at Westpac, which has offices at Barangaroo, says for him the proof is a 16 per cent reduction in absenteeism over a year.
Corporate greening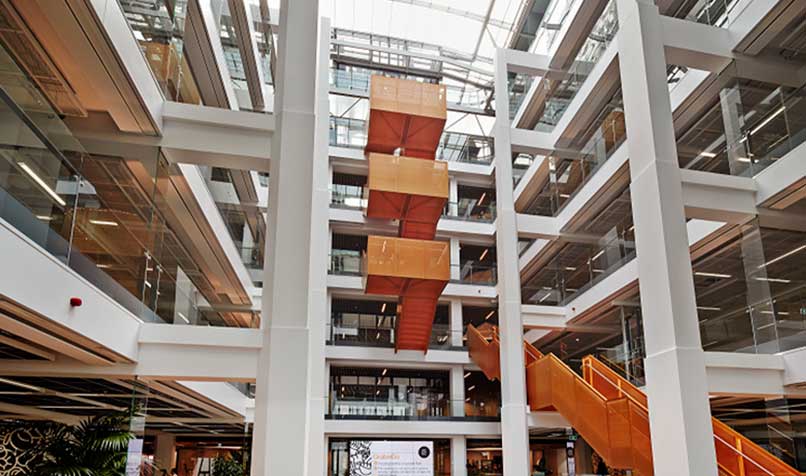 Romilly Madew, CEO of GBCA, says the pace of corporate greening in Australia has seen it named the world's most sustainable real estate market seven years in a row by the Global Real Estate Sustainability Benchmark.
"I don't think Australian industry imagined it would come so far so fast," she says, "but we were early adopters of innovative green technology and business worked collaboratively to establish the Green Star system."
Established in 2002, the not-for-profit GBCA represents 600-plus companies, including 24 listed in the ASX200. They include property developers, banks, superannuation funds, product manufacturers, retailers and suppliers.
"Most businesses are now saying a 4- to 5-star green building is business as usual, so gains they make on that in employee productivity are a bonus," says Madew.
"Modelling by CitySwitch [sustainability services] shows that a financial services company in a 5000 sq m green-rated space will save A$262,000 a year on reduced absenteeism."
At Macquarie Bank's global headquarters at 50 Martin Place, Sydney, the renovated building's new triple-glazed dome has a low-emissivity coating and a mesh blind that block summer heat but allow light to penetrate. An innovative air-conditioning system uses full fresh air through a raised floor, and incorporates chilled beams and cooling units integrated into trading desks.
At Medibank's office at 720 Bourke Street in Melbourne, the lighting mimics natural daylight, while more than 2300 plants filter harmful pollution, and around 10 per cent of the building's facade is covered in native plants. Just months after moving in, four in five staff reported they were working more collaboratively, and nearly two thirds said they felt healthier. The call centre has also reported a 5 per cent reduction in absenteeism.
Eco-friendly towers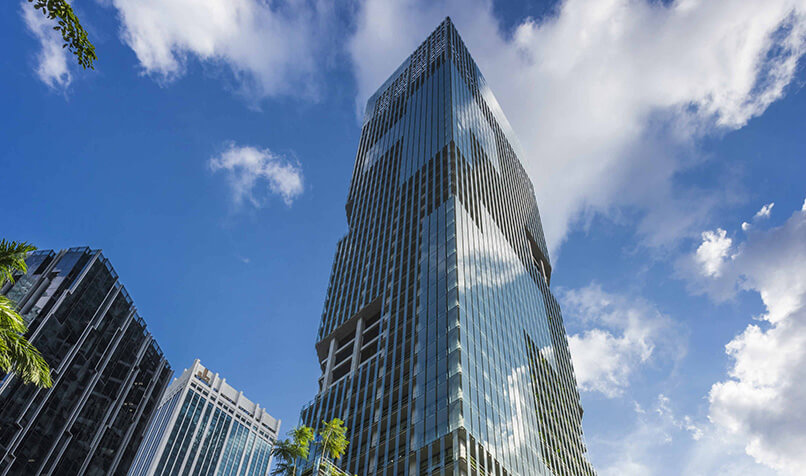 While developers in Asia once saw sustainability practices as a luxury or as "nice-to-have", times have changed, says Singapore-based Anthony Couse, Asia-Pacific CEO at Jones Lang LaSalle.
"Companies paying attention to employee productivity want the best work spaces," he says. "They are aware of studies linking sustainable offices to higher employee comfort and engagement."
Sustainable design adds real estate value, too. Asia Square is among Singapore's new breed of green buildings. It has one of the Lion City's largest solar panel arrays on its roof, and a bio-diesel generation plant. In 2016, US private equity giant BlackRock sold Asia Square Tower 1 to the Qatar Investment Authority for S$3.4 billion, and in 2017 it followed with the sale of Asia Square Tower 2 to CapitaLand Commercial Trust for S$2.1 billion – Singapore's priciest commercial real estate deal of the year.
The Singaporean Government wants at least 80 per cent of all buildings in Singapore to be certified green by the Building & Construction Authority (BCA) in 2030, and developers are on board with the push.
CapitaLand's 40-storey CapitaGreen tower was designed by Toyo Ito to be "a big tree in the city". The tower is covered in greenery and has a double-skin glass facade to keep the interior cool. On the building's crown a sculptural petalled wind scoop draws in cool air and directs it to the office floors through the air-conditioning system. A rainwater harvesting system irrigates the vertical greenery.
CapitaLand is also embarking on a S$1.82 billion redevelopment of the Golden Shoe Car Park. Its proposed 51-storey tower will include a 30-metre green oasis between floors of offices and apartments. A cycle path, 165 bicycle lots and end-of-trip facilities will encourage its workers to cycle to the office.
China, too, is seeing green. Its 13th Five-Year Plan, unveiled in 2017, requires 50 per cent of all new urban buildings to be certified as sustainable by 2020.
Glumac's 557 sq m office space in Shanghai is the first in China to apply for Living Building Challenge project certification from the International Living Future Institute. To be accredited, buildings must be energy, water and carbon neutral.
The Glumac building has a monitoring system that lets employees see the toxicity of indoor air on their mobile phones, based on the current oxygen levels, VOC levels, humidity and measures of chemicals and particles in the air. Five air purification systems and a planted green wall help weed out pollution.
Improving a workplace, however, does not always require such engineering. "There are outstanding examples of using green features to benefit staff, but often it is the simplest things that make a difference – increased daylight and fresh air, use of greenery, and different soft furnishings," says Madew.
Do green buildings boost productivity?
The World Green Building Council's 2013 Business Case for Green Building analysis of building design and workplace productivity found:
up to a 3 per cent increase in productivity when people had individual temperature control of their workspace
up to 11 per cent productivity gains from improved ventilation
up to an 18 per cent increase in productivity from access to daylight and openable windows
up to 23 per cent improved productivity from well-designed lighting.
A 2011 study from the Ernest Orlando Lawrence Berkeley National Laboratory estimated that improving the indoor environmental quality in US office buildings – by increasing ventilation rates, reducing dampness and mould, and keeping indoor temperatures below 23°C in winter – could deliver annual economic benefits of up to US$26 billion through improved worker performance and reduced absenteeism.
CBRE's 2009 survey, Do Green Buildings Make Dollars and Sense?, found tenants in green office buildings report an average 2.88 fewer sick days in their current green office versus their previous non-green office.
The University of San Diego's Burnham-Moores Center for Real Estate in 2009 found that green buildings reduced sick leave by 45 per cent, and absenteeism dropped by almost three days per worker per year.
Sources: Green Building Council Australia, World Green Building Council