A world without email
Cal Newport, Penguin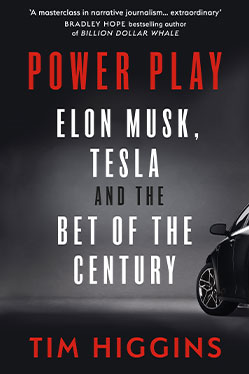 The idea seemed obvious – why not use lithium-ion batteries, already powering a host of digital devices, in cars? The simple answer is, because large lithium-ion batteries can dangerously overheat.
Tim Higgins takes readers through the timeline of engineers wrestling with this problem for years, until Elon Musk finally came up with a reliable cooling system, making electric cars viable. Musk became a major investor in electric vehicle manufacturer Tesla in 2004, becoming CEO in 2008.
As a hard-driving leader with sound tech skills, he propelled the company into the international spotlight, and electric cars eventually hit the road.
Even though we have much to thank him for, Musk is a hard person to like. Known for a mercurial temper, on-the-spot firings and astonishing propensity towards selfaggrandisement, in Higgins' portrayal Musk comes across as an entrepreneurial genius with a streak of temperamental eccentric – or maybe it is the other way around.
It is not easy to separate the stories of the electric car, Tesla and Musk, but Higgins manages to keep the narrative streams organised. The book makes for fascinating reading and, in the end, love him or loathe him, Musk's contribution cannot be denied.
Nothing is too big to fail
Kerry Killinger and Linda Killinger, Simon & Schuster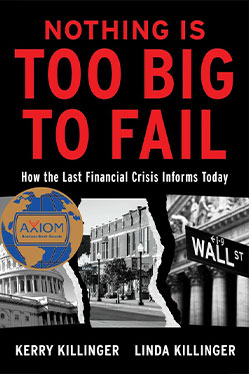 Even before the COVID-19 pandemic, the US financial system was developing dangerous cracks, according to the authors of Nothing Is Too Big To Fail. As senior bankers with experience on the regulatory side, they study the financial meltdown of 2008 for lessons.
While regulators have done much to strengthen the banking system, there has been an alarming growth in the "shadow" finance system of pension funds, disintermediated loan providers and even technology corporates. The outcome has been a worrying increase in debt, built around speculative bubbles in the stock market and the real estate sector.
The authors also point to issues thrown up by the US Government's spending on social issues and tax cuts.
In an appendix to the book, they discuss the stimulus packages connected to the pandemic, which might have been necessary, but which made the US economy even more leveraged and fragile.
Addressing these challenges, the authors say, will involve hard decisions, with an emphasis on paying down debt at all levels and extending regulatory oversight further into the non-bank finance sector.
Digital finance
Baxter Hines, Wiley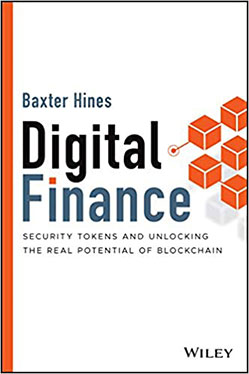 Blockchain technology has enormous potential, but so far it has not really broken through to the mainstream. Baxter Hines, a manager of portfolios consisting of traditional assets, securitised properties and digital assets, believes that this will change with the broad adoption of security tokens. Such tokens, he argues, will address the security concerns of blockchain and the complexity of blockchain systems, the main constraints to date.
Put simply, a security token is a digital device that authenticates a person's identity electronically by storing personal information. In order to gain access to a network service, the owner must plug the security token, such as a USB, into a system.
In the blockchain context, a security token can be loaded with value from nearly any source, allowing for safe, instantaneous transactions. The blockchain connectivity and security measures are embedded in the token itself.
Companies including IBM, Fidelity Investments and AXA are already deploying blockchain and tokenised options, and many others are gearing up for the change, but an education program is required to explain the system to retail investors.
There is still some way to go, but blockchain-linked security tokens are likely to eventually become a key part of the financial landscape.
Talent, strategy, risk
Bill McNabb, Ram Charan and Dennis Carey, Harvard Business Review Press
The authors of this book have a wealth of experience in investment trends and corporate management. They argue that the short-term metric of total shareholder return (TSR) is no longer relevant, as the dominant investment players are now institutional funds that look for long-term gains.
Bill McNabb, Ram Charan and Dennis Carey propose a different kind of TSR, called "talent, strategy and risk", because decisions and actions around these factors determine whether and how a company creates lasting value.
A key part of this transition is the expansion of the role of the investor relations officer (IRO). Instead of a predominantly public relations function, the new IRO must have the financial acumen to explain and contribute to corporate strategy. This would include the implementation of plans, as well as risk assessment and mitigation in areas such as cybersecurity and geopolitical changes.
The IRO also has to be able to think like an activist shareholder and shape company responses to emerging issues accordingly.
At the board level, the strategy of a company has to be clearly communicated to institutional investors, including the impact of recruitment decisions. None of this will be easy, say the authors, but all of it is essential.
Think again
Adam Grant, Penguin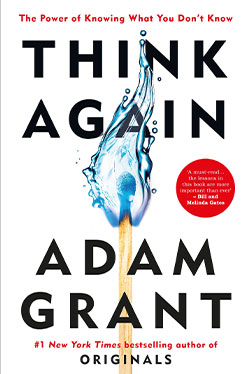 One of the hardest things to change is your own mind. The world is a turbulent, unpredictable place, says Adam Grant, an academic specialist in organisational psychology, so knowing when to rethink your thinking is a valuable skill.
Grant offers a framework for determining when circumstances have changed enough to require a new approach, with examples of failure and success at thinking again. Conviction and grit are important, he says, but so are flexibility and dynamism.
It takes humility to accept that one's outlook needs revision, and Grant emphasises the importance of maintaining an open, flexible mind. He notes the importance of systematically seeking out different opinions and testing hypotheses. A "challenge network" of people of diverse views can be a great asset, offering advice on which ideas need rethinking in the face of new evidence.
This is an ongoing process, but there is also value in a regular "life check-up" to avoid an escalation of commitment to an unproductive path.
Grant suggests questions to ask of yourself and of others. Unlearning and relearning require effort and time, he says, but the benefits are substantial. In the end, what got you to here might not be what gets you to where you need to go in the future.
Shorter
Alex Soojung-Kim Pang, Penguin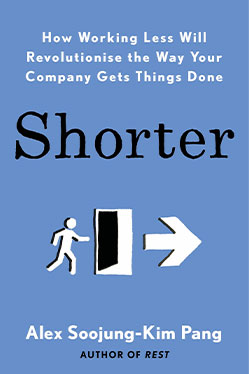 The way to increased productivity and profits is not working ever-longer hours, says workplace consultant Alex Soojung-Kim Pang. Just the opposite – innovation comes from clear thinking and creativity.
Shorter looks at many companies that have moved to four-day weeks without reducing remuneration, with good results for the bottom line. Done properly, shortening the working week improves recruitment and retention, Pang says, and employees – especially those who are parents – report improved focus, less stress and better mental health.
Pang's research suggests that most companies that have moved to a shorter week are medium-sized enterprises in the knowledge sector, led by founders who are recovering "workaholics". However, there is nothing to stop large corporates making a comparable transition.
New-generation communication technology has a key role to play in using time efficiently. Meetings, which consume huge amounts of time, are another area to consider – putting a simple timer on the table can prevent distractions.
Pang emphasises that no single model fits all situations. However, now is a good time for leaders to consider whether a shorter week is suitable for their company. Working better by working less might initially seem counter-intuitive, but the idea deserves thought.
Huddle
Brooke Baldwin, HarperCollins
Brooke Baldwin, journalist and anchor with CNN, is interested in the way women organise into groups to overcome adversity and discrimination. Female "huddles", she says, can provide crucial support and advice, and a means to advance causes of special interest to women.
In her book, Baldwin speaks with women who have established or joined a female-focused group. One particularly interesting huddle is made up of female lawyers who have found their way up the ladder blocked by discrimination and are now working together to overcome it.
Another is a group of female nurses who say that mutual support has been critical in helping them deal with the pressures thrown up by the COVID-19 pandemic.
Baldwin believes that successful women have an obligation to help others climb the ladder. She looks at an organisation set up by actress Reese Witherspoon to assist women in the notoriously prejudiced Hollywood environment and speaks with the founders of the #MeToo movement.
The books starts out with the premise that huddles are a recent phenomenon, but Baldwin eventually concludes that they have a long, if quiet, history. There are universal lessons in this book about the value of networking and the power of collective action.
Sustainability accounting and accountability (3rd edition)
Matias Laine, Helen Tregidga and Jeffrey Unerman, Routledge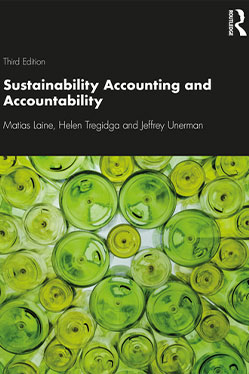 Designed as a textbook for advanced students, this book would nevertheless be of interest to any finance professional who wants to know more about sustainability reporting. Nearly all large corporates now have some form of sustainability reporting, according to the authors, but they vary greatly in purpose, substance, format and utility.
Matias Laine, Helen Tregidga and Jeffrey Unerman review the various frameworks available, especially the Global Reporting Initiative and the Task Force on Climate-related Financial Disclosures.
These are useful, the authors say, but each company has to tailor its reporting to the specific circumstances and the demands of its stakeholders. The authors support moves towards standards and guidelines, but they argue that regulation in this area requires a light touch.
There are several chapters dealing with specific issues such as accounting for climate change and weather events, biodiversity, water management, human rights and inequality.
Reporting about these issues should not only deal with recent activities, but also future challenges and strategies for meeting them.
While progress is being made in this area, Laine, Tregidga and Unerman believe much work still remains. Sustainability reporting will continue to be a growing field – after all, what gets measured gets managed.