At a glance
The format of Tabcorp's Powerball lottery was recently changed to increase its ticket sales.
The changes were based on consumer research, and were fine-tuned around factors such as number matrices, various prize divisions and lowest payout levels.
The changes were assessed to ensure they were consistent with the expectations of regulators, governments and the community.
Behind various lotteries in Australia – scratch-and-win instant types, smaller-outcome social games such as Keno, and mega jackpots like Powerball – there is a fascinating level of psychology.
The amount of time between the moment a participant buys a ticket and when the draw takes place, or when the result is known, tends to determine that player's reason for playing.
For instance, a scratch-and-win product has a very short time period between purchase and outcome, sometimes less than 60 seconds. Keno typically takes a few minutes, and Powerball could be up to a week.
"There's a level of hope and optimism that people have in their psyche before they buy a ticket," explains Callum Mulvihill CPA, general manager finance and commercial – Lotteries & Keno at Tabcorp.
"Whether it be a physical scratchie or a ticket drawn on a Thursday or Saturday night, it's the time between the purchase and the result that really determines the motivation to buy into a draw. Scratching a couple of scratchies while having a coffee is more about light entertainment, with the potential of a payout. Buying a A$10 lottery ticket and sticking it on the fridge at home for the week is about the anticipation of what life could be like if you won a million dollars, about how life might change."
The portfolio of 10 lottery products at Tabcorp is designed to offer a broad range of customers a chance to change their day, their week, their month, their year, or their entire life. A scratchie win, for instance, might change a player's day or week. A Set for Life win (A$20,000 per month for 20 years) will change a life. A Powerball win could change the lives of several generations of the winner's family.
Power play
Just a few years ago, Tabcorp faced a problem. Powerball, once famous for being the ultimate jackpot game and offering almost unimaginable winnings, was being outgunned by Oz Lotto. The "power", it seemed, had been removed from Powerball.
Mulvihill and his colleagues made the decision to put Powerball back into its rightful place as the biggest jackpot game in Australia. How can a game of chance that relies on the right numbers being drawn each week, as well as unique psychological purchase drivers, be planned and grown?
How can a strategy be built for an unknown weekly outcome? How could it be done without cannibalising other important brands in the Tabcorp stable?
"It began with my game management team," says Mulvihill, who spent several years in general and institutional banking and automotive before moving into lotteries.
"We came up with some models to figure out what this game could look like. If we wanted to take it to another level of sales, what would it need to do? What price would need to be set? What game structure would it require, and what about the winnings – how many prize levels might exist? We came up with some theoretical models to figure out what hangs together and works."
On his team are five accountants, as well as business development professionals, product managers, marketers, commercial analysts, strategists and project delivery specialists.
"If we changed the game to this degree, we asked, would they like it? How much would they play it? Would they play more or less than they do currently? Would they like to see A$100 million dollar draws once or twice a year? We asked these questions in a rigorous, qualitative market research process, and then moved into the quantitative side, with a greater number of customers."
That process revealed a preferred option, which then went back into a workshopping phase for fine-tuning around number matrices, types and levels of prize divisions, lowest payout levels and more. The preferred option was then assessed against Tabcorp's responsible play frameworks to ensure the changes were consistent with its principles and the expectations of regulators, governments and the community.
The resulting game then began its internal and external sign-off process, including having to be rubber-stamped by eight different state and territory lotteries regulators.
"Once everybody in that cycle is satisfied that this game, and these changes, are good for the customers and good for all of the other stakeholder groups, we then take it to market," Mulvihill says. "That is where it all gets fairly interesting and our very capable project managers scale up efforts and coordinate the organisation's diverse disciplines across marketing, legal, retail, technology, etc. to implement the changes."
The team took the odds of winning Powerball from one in 76 million to one in 134 million. That's not a great marketing point, but it leads to the probability of bigger jackpots, with the expected highest jackpots up from A$70 million to more than A$100 million. Also, the odds of winning any prize almost halved from one in 77 to one in 43. That took total winning tickets over 52 draws from 9.8 million to over 23 million.
Importantly, Mulvihill and his team knew that as jackpots build, so does participation. This is where the psychology comes back in.
"As the jackpot gets bigger, you're bringing in different players who might only play once a month, or who might only play once a jackpot reaches a certain level," he says.
"Once we get to a jackpot of A$100 million, we broadly have one in three Australian adults playing. Once it hits A$150 million, we find about one in two Australian adults enter the draw, either directly or via a syndicate.
"When you can create a product solution that appeals to half of the Australian population, that's pretty powerful. It creates water cooler conversations, where people at work are discussing what they'd do with their lives if they won."
Of course, along the way customers play their favourite numbers or select games based on random selections and then, based on the winning numbers drawn, a whole lot of statistics and probabilities play out. If no one selects all the winning numbers in any given draw, the top prize jackpots to higher levels the following week until it is won.
"This is what we refer to internally as coverage of the odds," Mulvihill explains. "Probability plays itself out. The more sales there are, the more combinations of numbers we're going to have covered. Even at a jackpot of A$100 million, there is a chance that it could jackpot again, but it becomes less statistically likely as you go up the range."
Do we have a problem?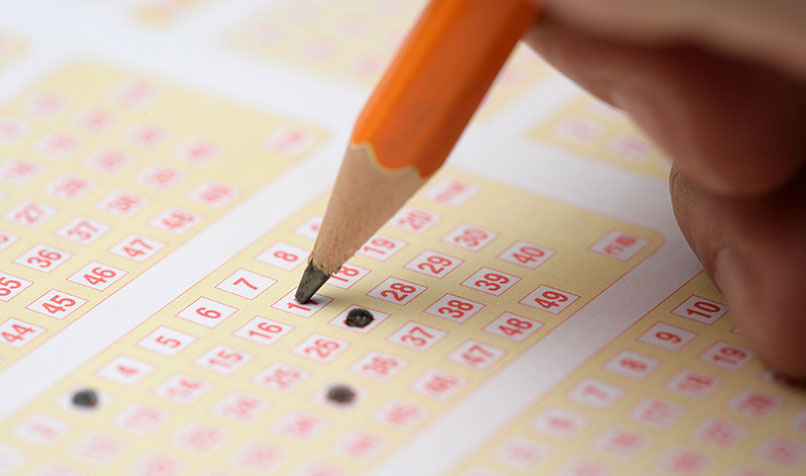 Is there a negative side to lotteries? Does the relationship between gaming entertainment and gambling mean staff members must be chosen carefully, so as not to rock the boat?
Mulvihill says the industry tends to attract talent given its deep roots in the community. The foundation of lotteries, he says, has always been the funding of public enterprise.
"A key element of our role is to fund public good," he says. "A part of that comes in the streams of taxes that we pay governments – we pay about A$1.3 billion in state taxes each year. There are also some really nice connections with our retailers. We support small business throughout the country.
"I think the success of lotteries comes back to the idea of the water cooler conversation, and there are not many businesses that can own water cooler conversation quite like ours.
We're an accepted form of entertainment within the community because people are happy to spend A$5 or A$10 a week to play our games, and to have that little piece of hope and optimism."
Five essential skills
What skills are needed to experience success in the role of general manager finance and commercial – Lotteries & Keno at Tabcorp? Callum Mulvihill CPA offers his top five.
1. Enjoy working with people
"For me, this is number one. Organisations only achieve when people work together, which is why this sits clearly on top of the list."
2. Ability to build a diverse, high-performing team
"Among my current team of 25, five CPA/CAs work together with a broader team of professionals with diverse backgrounds and capabilities. We work across the entire business unit, and are supported by Tabcorp's broader corporate core with legal, strategic development, government relations, people and culture, corporate finance, etc. supporting us in delivering outcomes for our customers and driving improvements to the value of our business."
3. High-level financial and mathematical skills
"Comprehension of the statistical and mathematical probabilities of our wide-ranging games of chance, and understanding how these connect to customers and ultimately drive financial outcomes for all stakeholders – prizes for players, commissions for retailers, taxes for governments and profits for the operator – are fundamental."
4. Being prepared to take well-considered risks
"From my early days as an analyst at Westpac, risk assessment and management were instilled in me, and I'm thankful for that early grounding. Considered risk-taking applies to your career as much as it does to driving successful commercial outcomes."
5. Broad-based commercial skills
"Career risks and paths less trodden provide the opportunity to build a broader repertoire of skills and capabilities. These skills are of enormous value in navigating a highly complex business and driving successful outcomes."