At a glance
Data from the Australian Government's Productivity Commission shows that up to 170,000 Australian adults experience problems due to gambling addiction.
Australians are among the heaviest gamblers in the world, losing A$24.9 billion a year to gambling.
The Productivity Commission estimates the social cost of problem gambling to be at least A$4.7 billion a year.
By Megan Breen
When former office and accounts manager Carolyn Crawford sat in front of a poker machine each night, she did not realise that she was one of millions of Australians contributing to A$24 billion lost through gambling each year.
To her, playing the "pokies" was just an outing, something she felt she could stop doing at any time.
She started using gaming machines as a social activity, a habit that spiralled out of control and saw her, aged in her 60s, jailed for 18 months for stealing hundreds of thousands of dollars over several years from her employer to feed her habit.
"When I began playing the machines, I didn't realise that they were addictive," says Crawford, who now works with the Alliance for Gambling Reform to help people better understand the impacts of gambling addiction.
"I always thought addiction meant drugs and alcohol – but it's been shown there is no difference between those addictions and gambling," she says.
Crawford's story is not unique. Data from the Australian Government's Productivity Commission shows that up to 170,000 Australian adults experience significant problems as the result of gambling, and that a further 350,000 adults experience moderate risks that may make them vulnerable to problem gambling.
The social cost of problem gambling is estimated by the Productivity Commission to be at least A$4.7 billion a year, with countless studies linking gambling to theft, loss of employment, bankruptcy, family violence and homelessness.
The biggest losers
Australians lose a staggering A$24.9 billion a year to gambling and are some of the world's heaviest gamblers per capita. Australia's love of electronic gaming machines, horse racing and other sports betting puts the country's total gambling turnover at A$218.9 billion for 2017-2018.
Per capita losses of A$1292 place it well ahead of Hong Kong and Singapore, in second and third places globally, and more than twice as high as the US.
Gaming accounts for the largest gambling turnover, largely due to policy reform that saw the proliferation of poker machines in Australia during the 1980s and 1990s to boost tax revenue.
Tim Costello AO, former CEO of World Vision Australia, is now the chief advocate for the Alliance for Gambling Reform. Costello argues that Australia stands alone in its attitude towards gambling revenue.
"Every other state and country in the world relies on other taxes, such as payroll tax, stamp duty, etc.," he says.
"They don't simply prey on the addicted for funding, because that is a failed public policy. The technical argument that 'it's easy revenue, so we can't do it any other way' is a peculiar trap."
Costello likens Australian governments' reliance on gambling revenue and its widespread acceptance to the US attitude towards gun ownership.
"We can't believe how the US National Rifle Association captured politics there, and we think that's bad. The rest of the world looks at us and the way the gambling industry caught politics here, and can't believe it. It's the same thing," he says.
Benefits versus costs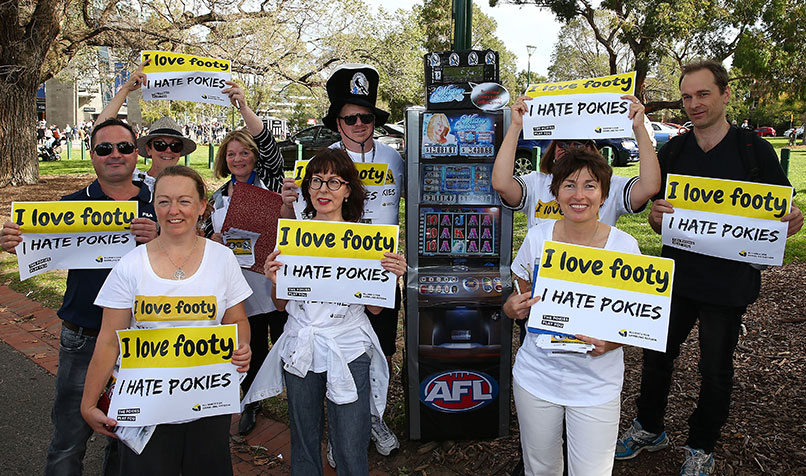 Fiona Patten, leader of the Reason Party and a Member of the Victorian Legislative Council for the Northern Metropolitan region, is a long-time campaigner for reform to the gambling industry, arguing the economic and social costs outweigh any economic benefit to states.
"Gambling addiction is not getting the recognition that it should from governments – and maybe the reason is because they make billions of dollars from the gambling industry. Now, that money may help fund our hospitals and our roads, but at what price?" says Patten.
"The Victorian Responsible Gambling Foundation estimates that gambling accounts for 22 per cent of Victorian mental health sector costs," adds Patten. "I would argue that the burden on the health system of someone addicted to gambling far outweighs the revenue generated."
One of the perceived economic benefits of institutionalised gambling is that it is a tool for economic growth, including through increased employment and growth in local retail sales.
Michael O'Neil, associate professor and executive director of the South Australian Centre for Economic Studies at the University of Adelaide, says the argument that the gambling industry creates employment is debatable.
O'Neil has authored more than 30 consulting and research papers looking at the gambling industry in Australia, and cites evidence showing the comparisons between different types of employment in a hotel or club.
"For every A$1 million turnover at a venue, gambling would employ about 3.2 people, whereas for A$1 million turnover for alcohol sales, a hotel would employ about 8.3 people," he says.
"Thirdly, for A$1 million turnover in food and entertainment, 20.2 people would be employed. The employment multipliers are much greater, which is intuitive, really, because you don't need many people to manage standalone electronic machines."
O'Neil says economic costs, social costs and methods of harm minimisation are fraught areas of debate and a contest between industry researchers and government. At the centre of the debate is the argument that people who play the machines are engaging in a recreational activity by choice.
"The fundamental fact is, Australia is very different to the rest of the world when it comes to the prevalence of electronic gaming machines, particularly in hotels and clubs. Some of the machines will allow people to put in hundreds of dollars before they press a button, so people can very quickly lose a lot of money," he says.
"And that's when it is not really a recreational activity – it becomes something that's quite harmful."
Minimising harm
Research from the Productivity Commission shows that, while many Australians may enjoy gambling, "as much as possible, policy should aim to preserve the benefits, while targeting measures at gamblers facing significant risks or harm".
The research acknowledges that state and territory governments have put in place an array of regulations and other measures intended to reduce harm to gamblers, but also notes that a more coherent and effective policy approach is needed to address the high rate of problems experienced by those playing gaming machines regularly.
Patten argues state governments must play a much bigger role in minimising harm from gambling.
"We've asked questions and we have put up amendments, which are not about banning gambling, but instead about curbing it," she says. "We'd like to see much better systems for people who want to self-exclude from gambling. At the moment, those self-exclusion policies are very light and really rely on the individual not turning up at the venue."
O'Neil says methods that minimise risk of gambling addiction include restricting the time spent playing poker machines, capping the maximum bet amount at A$1 and reducing the number of hours gambling venues can stay open.
"The ultimate position for governments is to ensure that there are much better consumer protections and harm minimisation measures.
The industry is slowly moving to some of that, but I still think we've got some way to go to improve consumer protection."
While electronic gaming machines make up the largest sector of gambling, Australians are well-known for their propensity to bet on any outcome. Another type of betting that has a prominent place in the Australian psyche is betting on sports.
Dr Susan Rennie, public health expert and former mayor of Darebin Council in Melbourne, says gambling advertising during sporting matches is a cause for concern, as is online advertising promoting gambling during children's games.
"Our TV screens have been overtaken with gambling ads during sport, and that creates a subsequent normalisation of gambling for kids. We have a situation now where children quote the odds instead of focusing on the game. And, interestingly, there's been a real backlash from parents who feel very strongly that that's not what they want their kids to think of when they watch sport."
Local solutions
Until a few years ago, advertising promoting pokies venues was a familiar sight at sporting clubs in the local municipality of Darebin in Melbourne's inner north. Sporting teams wore uniforms branded with gambling company logos, and clubs relied on sponsorship from the gambling industry.

As mayor of Darebin Council, Rennie was responsible for introducing a gambling harm prevention policy to address the significant impact gambling was having in the community.
"Over the past few years, our community lost just over A$80 million a year on poker machines alone. And you can't take A$80 million out of the community and not have some people experience pretty severe poverty as a result."
The losses lead to bankruptcy, foreclosures on loans and homelessness, adds Rennie.
"But there is also a strong relationship with family violence. So, while the causes of family violence are deeply embedded in gender inequality and gender stereotypes, what we do know is that, with gambling addiction, the frequency and severity of family violence incidents increase," she says.
One of the first things the council did was to separate sporting and other social and leisure clubs from gambling in the same way tobacco advertising was banned from community sport decades ago.
"Our policy is not about anti-gambling, it is about reducing the harm gambling can cause by limiting the way it is promoted.
"Effectively, the policy said that any club or association that takes money or sponsorship, or is involved in the operation of poker machines, will not be able to access council grounds and facilities, and grants," says Rennie.
Rennie also notes that describing people with a gambling addiction as "problem gamblers" is stigmatising, and research has indicated this can prevent people from seeking help.
"From a public health point of view, if we take someone who becomes addicted to the machine – which is a fairly predictable outcome of producing a machine with the features that it has – and we describe them as a 'problem gambler', it's shifting responsibility away from the product towards the individual," she says.
"I think it's really important to remove the shame and stigma from people who become addicted, because they are often vulnerable in the first place. And it's an industry that preys particularly on vulnerable people.
"A lot of work and a lot of psychology have gone into creating machines that will keep people sitting at them for as long as possible until they have literally lost everything."
This is the reality for Crawford. "I've got nothing, but I owe nothing either," she says.
"Going to prison wasn't on my 'bucket list' by any means, but in hindsight it was the best thing that happened to me, because I received counselling, I stopped gambling and I have since paid back the money I took from my employer."